Turkish construction machinery and attachments manufacturing company, Galen Group, wants to broaden its reach to the construction industry in theMiddle East region. It has an extensive range of competitively priced machines, parts and components that can be shipped globally. Being near the MENA region is a definite advantage.
Based in Turkey, the Galen Group was established in 2004. As a manufacturer of construction machinery, attachments, wear plates and components, the Turkish manufacturer has a stable client base of 285 companies from 37 countries around the world. The group's clients are mostly around the European region but are also located in North and South America, Africa, and Asia. In the Middle East region, except for a couple of sales, they don't have any other business so far.
Galen Group is keen on tapping into the immense potential this region has to offer and have signed on contracts with shippers that will facilitate sending their manufactured goods to companies located in the Middle East. "Until the second half of 2021, we were focused more on theEuropean market. We now have the right shipping partners to transport our machines and attachments to the Middle East region at very affordable prices. Frankly, we are looking for reliable long-term partners for the Middle East," says Orkun Batuhan Yildiz, Export Manager at Galen Group.
Galen Group manufactures more than 200 different types of attachments and machines. The attachments are for demolition, construction machinery, handling, marble, recycling, among others. Available in different sizes, buckets are another item they produce, which are suitable for recycling, loading and excavation. The group also manufactures boom arms that come in varying sizes and types including long reach, demolition and dredging. Additionally, they have brand that called as Metalon. They manufacture in their casting factory Ground Engaging Tools (teeth, adapters, wearparts) for Turkish market. They use casting parts not only for GET but also for wear areas in dragline buckets, special applications in boom-arm etc.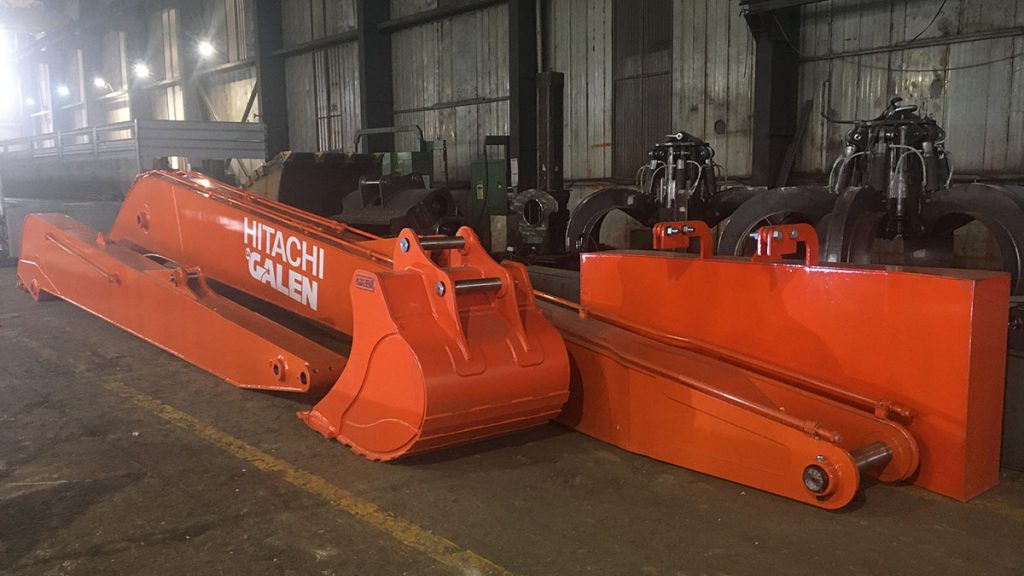 The Long Reach Boom arm
The boom arm is a special attachment with multiple uses such as for deep and long distance digging and dredging, slope shaping, settlement banks, cleaning pools or waterways. With the long reach attachment, the inner baffle plate gives the torsion arm extra force to with stand torsional strains.
The boom arm can be attached on a wide range of excavator models that have upto 10-200 metrictons (22,000 – 488,400 lbs) of operating weight. The long reach boom arm saves cost and time and maximises profits as it achieves 50 percent more digging depth anda dvanced reach than a standard boom.
The boom and arm are critical components of an excavator and require tight tolerance and precision. They are machined on state-of-the-art equipment to ensure sturdiness. The long reach boom arm is ideal for river and sea dredging on land or barge; for basement and deep foundation excavations, and for marine wall construction.
The design of this machine is comprehensively simulated, ensures integrity, and identifies potential stress and fatigue points. All surfaces are sand blasted, and it comes with marine grade epoxy paint as a primer.
The excavator bucket: from mini excavators to hugeshovels
Galen Group's excavator bucket is manufactured for different industries and hence the design varies depending on its usage. Having said that, all excavator bucket types share some common design features: buckets are made of Hardox 450 steel; they have diamond folded tops for higher structural strength; their double radius shape increases heel cavity and clearance and reduces friction and wear and tear; buckets come with overlapping plates which reduce stress in critical areas. Also, machines in the 20-70 tons range come equipped with rock buckets.
The heavy-duty bucket's torque pipe provides maximum power and eliminates corner cracks and upper beam faults. Side cutting blades are preferred in rock and stone applications as theHardox 450 grade steel with optimal thickness provides maximum wear resistance. It has three wear protection levels for more demanding applications, including inner wear belts, additional wear blocks (700 BHN) and side and blade covers. Four reinforcing angles are used to strengthen machine connections and two mesh plates provide additional strength and evenly distributes tresses throughout the bucket.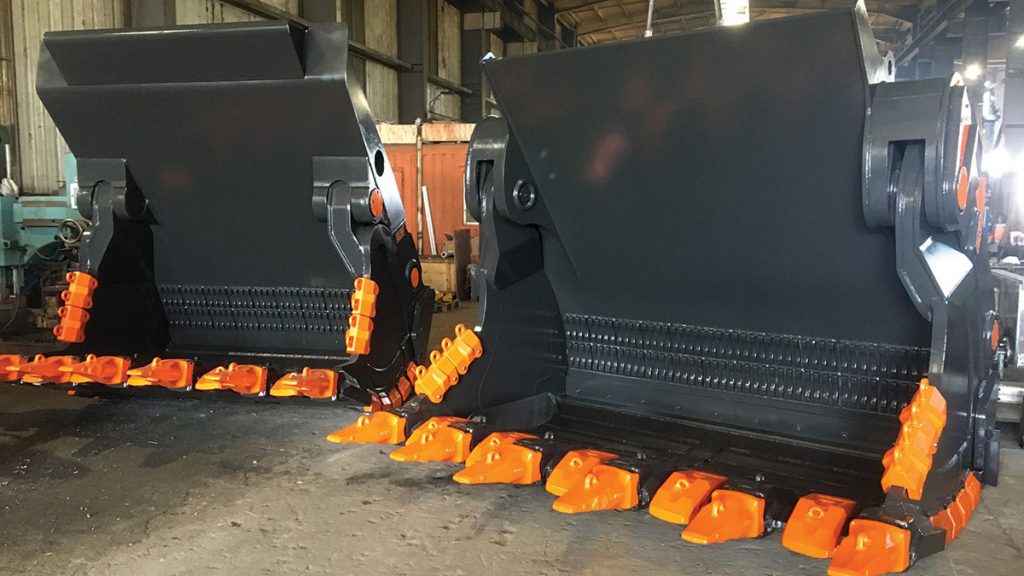 The Screen Bucket
Screening buckets are a particular type of excavator and loader attachments, designed to "screen" materials. They are used for screening and separation of materials, both before and after a crushing phase. They feature a number of screening blades – designed in different configurations-, which allow different particle sizes of screened material, depending on thejob's requirements. Simply said, screening buckets are able to separate materials of a particular size or shape.
Screen buckets are easy to useand multi-functional tools that can be used for separating materials such as top soil, construction waste, demolition, compost, etc. Typical screening applications include:
• Topsoil – to prepare a top soil for projects like sportfields, landscaping and large gardens
• Padding and Back-filling – to screen dig materials for reuse padding pipeline and cables
• Composting – to create a high nutrition also by mixing and aerating them
• Industrial Applications – to screen and separate raw materials;
• Recycling – to separate fines from recyclable material
• Screening Peat – to screen stones, stumps and roots out, to process light material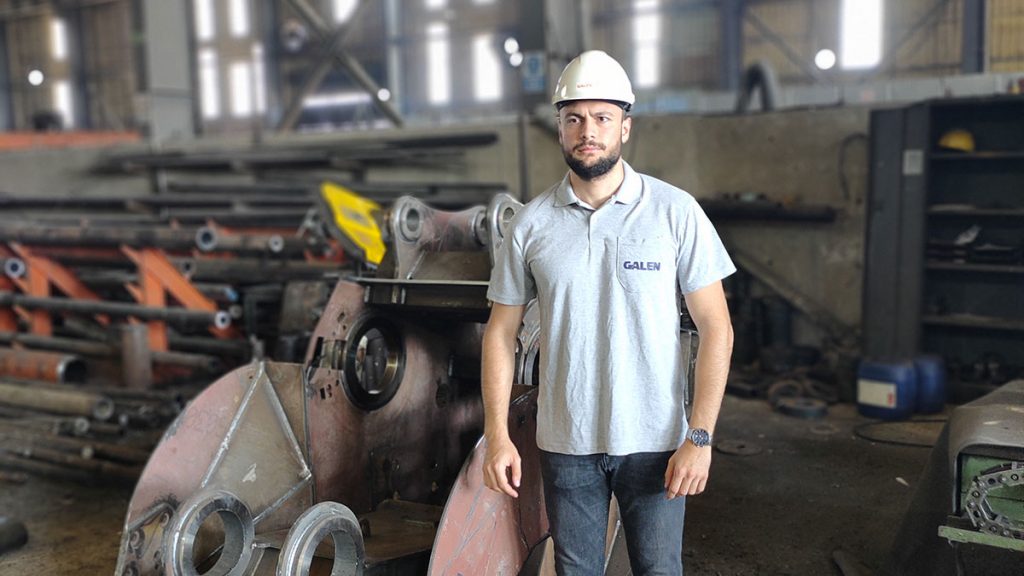 In the face of the ongoing pandemic, there was a pause in the construction industry in 2020 due to restrictions which led to a 2.4 percent drop in earnings worldwide. This, however, led to a demand explosion once vaccines were rolled out and restrictions were not so strict on work sites. Hence, global growth in the construction industry output is projected to be 5.7 percent this year. From 2022 to 2025, global output growth is projected to average 3.7 percent per year.*
Galen Group is well prepared for this process and has already increased production capacity. The numbers that they can see predict healthy growth in the future.
*According to GlobalData, a data and analytics company.