IVECO launched two trucks – the new T-Way (off-road) and the new S-Way (long haul) truck – in Dubai for the Middle East market. Both new vehicles cater to their clients' changing needs for the present moment and upcoming decade. Plant & Equipment had the chance to drive the new trucks and get detailed insights from the IVECO personnel.
IVECO introduced their latest offerings at an in-person, three-day launch event at the Dubai Autodrome. The new T-Way off-road truck and the new S-Way long haul truck were presented to more than 150 customers, dealers and the media through an in-depth familiarisation concept using multiple channels. The vehicles were also available to test drive on both an on-road and off-road track. IVECO had held a live virtual launch of these trucks for its European market in June 2021.
The brand's major markets in the region are Saudi Arabia, UAE, Iraq, Egypt, Qatar, and Oman. "We have a long-lasting relationship with many customers in the region, because IVECO is trusted and appreciated for the reliability of its vehicles and professionalism of the team," says Fabio De Serafini, Africa and Middle East Business Director. "Let's not forget that our success in the Middle East is a matter of capillarity: thanks to our network of 11 dealers, 20 points of sales and 40 service locations. IVECO can be counted amongst the protagonists in the region," continues De Serafini.
IVECO has been moving equipment in the region starting with the Fiat 682 from back in the early 1960s. That vehicle was always synonymous with reliability and quality. Today, the full range of IVECO trucks available in the region ensures that there is a truck to fit every mission from urban and international deliveries, freight transportation, to solutions for the construction and quarry sectors, mining, contracting companies, logistics and transport and municipality and tenders. Currently, medium and light range trucks are gaining demand in the market and experiencing constant growth among UAE customers.
However, the commercial trucks sector suffered massively during the pandemic with almost all OEMs facing an uncertain market. "We feel that the Middle East economies are recovering very fast due to the positive effect of crude oil prices. Also, IVECO is ready to strike back because the link between the company and its customers is very strong and we are leading in some segments such as door to door distribution, logistics and medical sectors which have become key during the pandemic," says De Serafini.
IVECO's heavy-duty trucks represent the company's core business in most of the main Middle East market; the needs of fleets are changing as are the types of vehicles required and IVECO's off-highway and on-highway ranges offer a superior choice for fleet owners.
"Today, our customers see their trucks as a business tool. They look for a complete solution that will deliver the profitability they need. The new IVECO Way launch has been developed to optimize all the Total Cost of Ownership (TCO) elements: fuel consumption, price, residual value, maintenance and uptime costs, driver satisfaction and productivity. With the new Way family, we cover the whole set of market demands with coordinated, but very differentiated products," says Carmelo Impelluso, IVECO Head of Commercial Operations, EMEA.
Driver experience
The development of the new IVECO S-Way and T-Way has been inspired by improving the driver experience, cutting TCO and offering dealers ample opportunities to increase sales and competitiveness in the markets. TCO and customer profitability is achieved by the new S-Way being 12% more efficient in aerodynamics with an estimated 4% fuel economy in long haulage which means a saving of 2,000 €/year for each truck. The new features of the T-Way range such as the EBS, Hi-Mux electrical architecture and disc brakes reduce maintenance cost by 15% (as compared to previous models), which contributes to a very competitive and economic vehicle operation in the long run.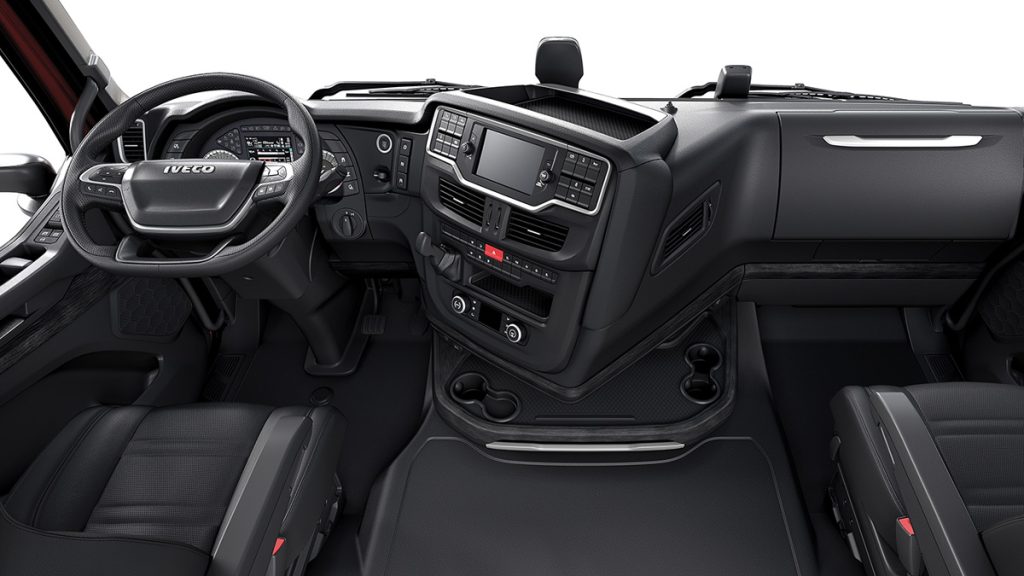 These two new trucks are the result of continuous re-creation and re-invention. This new heavy range exemplifies the achievements of a product innovation cycle developed step by step over the last few years. "When we decided to develop the new models, we knew we were building the truck for the next decade, facing a high frequency and amplitude of regulatory challenges around emissions, safety, and connectivity," says Impelluso. The new range is perfect to work in the most extreme climate and weather conditions both due to their robustness and new cabin comfort: the air conditioning system and integrated parking cooler and heater systems ensure an ideal internal climate within the cab in all weather conditions, when driving or during stops.
The cab provides outstanding ergonomics and controls layout. The T-Way cabin is available in two versions: AD short cab and AT long cab with standard or high roof. The entire area has been created to provide a practical and easy-to-live-in environment. The comfortable and ergonomic driver's seat, together with the new-concept multi-function steering wheel, ensure excellent driver support.
Driver safety is paramount in the harsh conditions typically faced by the IVECO T-Way. The vehicle is designed to provide maximum protection, with safety features that far exceed the type-approval requirements. The new braking system features EBS as standard, full disc brakes are available on PWD models, and new ADAS (Advanced Driving Assistance Systems) is available across the range.
The IVECO S-Way has also been developed with a strong focus on the driver, and the new cab has been redesigned and reinforced to ensure high levels of passive safety, with mechanical resistance compliant with ECE R29.03 cab crash standards.
The IVECO Way range has been designed for efficiency and productivity, with a host of features, a lower kerb weight, and new telematics features and digital services.
After sales
IVECO has a network of service centres covering the main corridors and key areas with a backend support system which is also able to perform the service in the customer's premises. Mobile workshops are also available to provide high standard assistance on the field. IVECO is also constantly working on improving its service standards and on increasing the number of mobile workshops for added customer peace of mind.
All IVECO customers receive a standard warranty coverage (which depends on the market and is based on customers' expectations and competitors' offers and can be customised). On top of it, each customer can purchase an additional extended warranty (full or driveline only) for up to 5 years/500,000km. On the new S-Way and T-Way customers can also purchase the scheduled maintenance and the wearing components coverage, again up to 5 years/500,000km. This way IVECO is providing customized packages for maintenance and repair to better cope with all customer needs.