UD Trucks recently launched their Euro 5 Quester and Croner for the UAE and Qatar market. Launching the Euro 5 has a twofold meaning for UD Trucks – it's anticipating the shift soon to happen in the Middle East in terms of emission standards, as well as adhering to its brand strategy to move towards a sustainable business model. Plant & Equipment had the exclusive opportunity to spend a day getting to know the new trucks.
UD Trucks organised a daylong event at the Dubai Autodrome, for its clients, customers, media and officials, to launch their prestigious Euro 5 Quester and Croner trucks. The event was a first for the brand after the onset of the pandemic and was attended by Japanese Consul-General in the UAE, Noboru Sekiguchi, as well as approximately 160 customers from across the region, who experienced driving the new trucks first-hand.
Launching the Euro 5 versions of the already popular models Quester (introduced in 2016) and Croner (introduced in 2017), UD Trucks injected a new enthusiasm in the market amongst existing clients and new customers. Significantly upgraded with new features the trucks have already been lapped up in multiple deals in different markets in the Middle East and East Africa.
"Our decision to introduce the Euro 5 range was part of our brand's strategic vision towards a Better Life, where we look to become the sustainability leader within our industry," says Mourad Hedna, President, MEENA, UD Trucks. The introduction of the Euro 5 range in the UAE, and Qatar reduces the environmental impact of this class of vehicle and allows for greater efficiency in terms of driving experience and ownership costs.
The launch of the new Euro 5 trucks comes ahead of the introduction of new regulations in fast-growing regional countries such as the United Arab Emirates, which currently has a Euro 4 emission standard, and Qatar, which will be adopting Euro 5 emission standards by mid-2022. This move by UD Trucks allows businesses to better prepare for the switch to more environmentally friendly fleets, as the Euro 5 range reduces NOx emissions by about 43% compared to Euro 4 and significantly reduces the carbon footprint of the vehicles through cleaner emissions.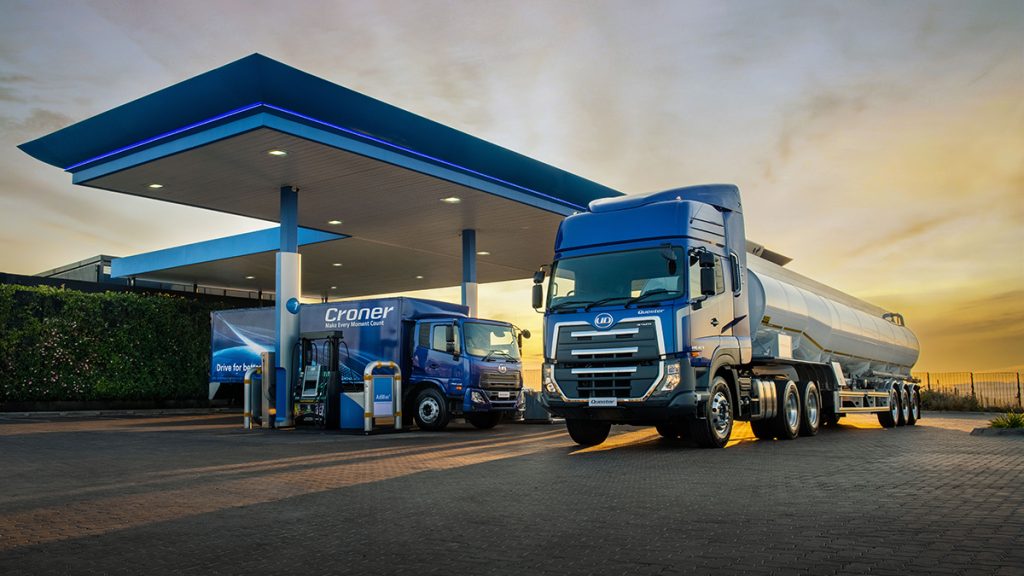 Ownership cost
UD Trucks' knows the market well and hence provides clients with essential needs – product specs and features needed by customers for their operation. "We do not offer too many high-end features and believe in providing a costeffective truck to buy and maintain," continues Hedna. Engines with proven high and flat torque ranges, gets the best out of the truck in terms of fuel efficiency (approximately 10%). These engines are designed to be used for many kilometres without the need for overhauls or significant repairs. In addition, these engines have longer service intervals. All of this helps to minimise operational costs for the customer.
In addition, the ESCOT gearbox available with Quester helps to get the best output from the average driver in terms of fuel efficiency. These gearboxes have no clutch pedals, so do not need driver intervention for gear changes (an average of 1,000-1,500 times a day by automatically selecting the right gear at any given time), which reduces unexpected clutch wear and truck downtime. The clutch has a much longer change interval since the gear changes are done through the robotized system.
"We have also introduced a new instrument cluster with an improved fuel/driver coach system, through which the driver gets real-time alerts and notifications to enhance his performance," adds Hedna. This new feature also gives visual notifications with different colours, for the manual gearbox, to drivers related to fuel consumption in real-time. This is like having a driver trainer sitting beside the driver all the time. With UD Telematics also available on the truck, fleet managers have complete visibility of the truck usage and driver behaviour. The trucks and drivers can easily be monitored for rash and non-fuel-efficient behaviour, which helps improve the fleet's fuel efficiency and avoid downtime, consequently leading to improved cost-effectiveness and performance of the fleet.
With these specifications and features, these trucks can maintain the cost-effectiveness for capital cost and operational cost, ultimately optimising TCO and ROI in the shortest time possible.
Selective Catalytic Reduction
UD Trucks pioneered the Selective Catalytic Reduction (SCR) technology 17 years ago which helped create environmentally sound trucks and more durable and reliable engines.
SCR reduces the amount of nitrogen oxides produced as combustion occurs from the engine. SCR works with Adblue, a non-toxic fluid that is available at all authorised UD dealers. As emissions pass through the exhaust system, Adblue, held in its own tank, is also injected into the system, subsequently combining with the emissions and passing through the catalytic converter. This converts the nitrogen oxides produced by combustion into harmless nitrogen and water vapour. Compared to Euro 3 models, the SCR in Euro 5 models produces 60 percent less nitrogen oxides, and 43 per cent less than the SCR in Euro 4 models. Just four or five litres of Adblue are required for every 100 litres of diesel, so it is very efficient as well as environmentally friendly.
Additionally, SCR does not circulate gas back to the engine as it is less sensitive to fuel quality, which can lead to engine issues. This means that SCR does not require service interval changes or any additional maintenance, creating even more peace of mind for customers.
This innovative technology delivers more uptime and a better performing truck.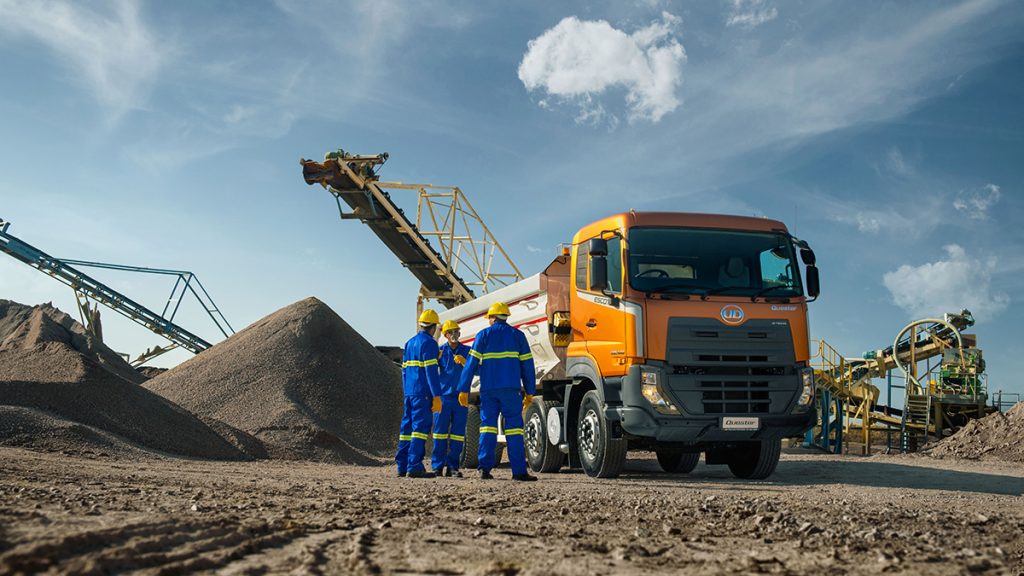 Competition
"There is indeed competition in the industry, especially when it comes to establishing customer loyalty and ensuring satisfaction," continues Hedna. "We always want to ensure our customers feel supported and satisfied at all times, and that their needs are always prioritised."
UD Trucks performed quite well last year considering the situation – a direct result of customer focus and satisfaction. Numerous elements combined delivered such loyalty and connection with customers; for example, customers were given extended warranties during the lockdown to decrease any concerns they had on vehicle maintenance and repairs needed.
"We provide our customers with a reliable aftersales service, thanks to an extensive warranty offer and readily available spare parts, all of which ensures their business can operate smoothly. Through our Dubai-based warehouse, parts availability is at 95% for all service parts. The service package includes lubricants offer to support optimal vehicle efficiency, a full international warranty of two years on trucks and two years on fitted spare parts and factory-fit," concludes Hedna.