In a move aimed at strengthening its fleet offering and amplifying the growth of its well-established Owner-Driver Programme. In October 2022, Coca-Cola Beverages South Africa (CCBSA) received a whopping delivery of 48 new Mercedes-Benz Actros 2645 LS units from Mercedes-Benz Trucks's authorised dealerships; Sandown Commercial Vehicles Centurion, Garden City Pietermaritzburg, and NMI-Durban South Motors. The recent purchase signals a continuation of a long-standing partnership between Mercedes-Benz Trucks and CCBSA, legendary brands that boast an extensive global footprint.
Adjei Ndanganeni, Logistics Manager: Owner-Drivers Coca-Cola Beverages South Africa comments on the new fleet: "As CCBSA, we are elated to yet again partner with a pioneer and trusted brand like Mercedes-Benz Trucks in our endeavor to heighten our Owner-Driver Programme – which has become an integral part of our business. Mercedes-Benz Trucks remains a perfect fit for our business operations across the region, for both the short and long haul. Their trucks bring a whole new dimension when it comes to reliability, efficiency, and safety which is of utmost importance to our business, employees, and contractors. I am excited about the new fleet, for us this means increased agility when it comes to our customer business needs".
The Owner-Driver Programme was established in 1992 as a central part of the Amalgamated Beverage Industries (ABI) distribution channel. This, coupled with South Africa's development mandate, provides previously disadvantaged groups the economic opportunity to be a part of the supply chain of a major industrial operation. To date, CCBSA has approximately 346 Owner-drivers operating across 11 distribution sites.
Ndanganeni further adds: "I am honored to say that this programme has contributed significantly towards employment creation in South Africa. Today, we have owner-drivers who started their careers as crewmen and worked their way through to becoming entrepreneurs that also employ other people. We have owner-drivers as young as 22 years, who proudly own and operate more than one truck which to us is a clear indication of the success of our programme".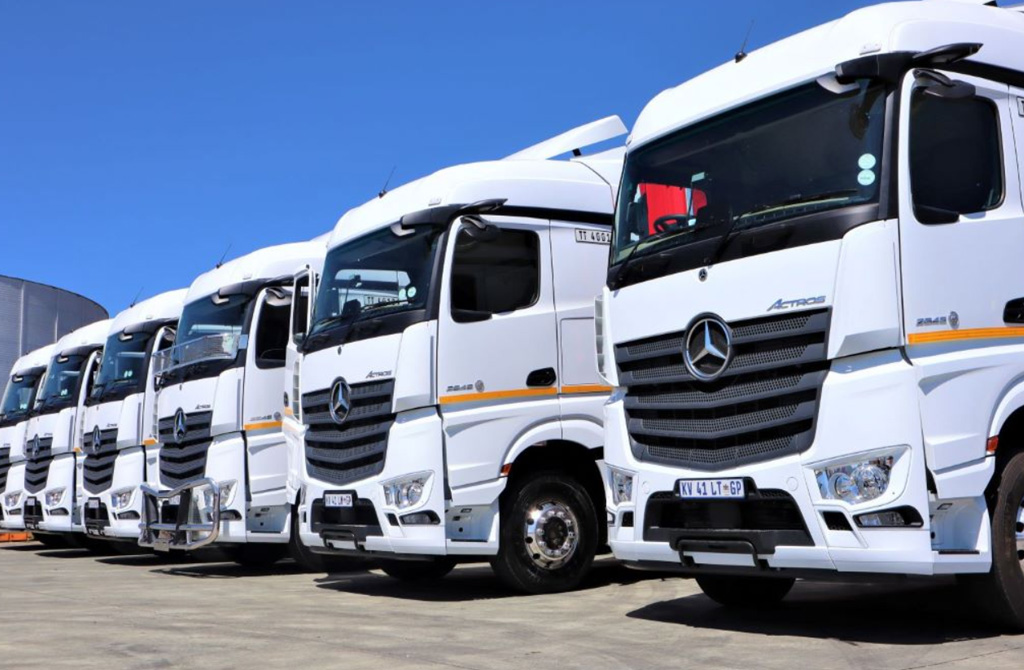 "CCBSA is a prominent brand across the region and we are beyond ecstatic to remain their preferred business partner. As Mercedes-Benz Trucks, we continue to build sustainable partnerships with our customers to drive their business profitability and productivity further. I am heartened by the success of CCBSA's Owner-Driver Programme and I would like to use this moment to congratulate all the owners of the new trucks. We wish their businesses unending success and look forward to many more years of working together in the future", concludes Dirk Meyer, Head of Key Account Management/Export.
CCBSA is a proudly South African company that began operating as a legal entity in July 2016, after the merger of six non-alcoholic ready-to-drink bottling operations. It is a level 1 B-BBEE empowered company and employs over 7000 people at 13 manufacturing facilities across the country. As a subsidiary of Coca-Cola Beverages Africa (CCBA) and a bottler for The Coca-Cola Company, the vision is to refresh Africa every day and make the continent a better place for all. CCBSA manufactures and distributes Coca-Cola beverages that make life's everyday moments more enjoyable while doing business the right way. The result is a shared opportunity for customers, employees, communities, and shareholders.