Mercedes-Benz Trucks, an internationally renowned brand whose repute is entrenched in being a pioneer of ground-breaking trucks, recently handed over 14 Mercedes-Benz Actros units to Aspen Logistics. The latest delivery, which took place at an exclusive handover ceremony serves as the renewal of a thriving relationship between these two associates. For decades now, Aspen Logistics has been using Mercedes-Benz trucks which have not only contributed to the optimal experience and profitability but have carved themselves an important place in their eminent business.
Sujen Padayatchi, Managing Director: Aspen Logistics, shed some light on the company's recent purchase: "I am pleased that as Aspen Logistics we are once again extending on our partnership with Mercedes-Benz Trucks after having been proud owners of their fleet for a number of years. From the beginning, we have always been a family business that believes in the Mercedes-Benz Trucks brand, simply because we get a basket of advantages that are a good fit for our business. They offer us uncompromised quality, unmatched reliability, and cutting-edge technology which plays a vital role in the delivery of services and products".
Padayatchi further adds: "When it comes to customer service and maintenance, Mercedes-Benz Trucks is certainly a cut above, thanks to its dealership McCarthy Kunene Commercial Vehicles for their superb support. We look forward to seeing how these vehicles are going to perform in our operation. As we embark into the future, we remain loyal to the brand to move our business forward and would definitely recommend it to my fellow FMCG suppliers who are looking into expanding their fleet.
Founded in 2001, Aspen Logistics is a leading supplier to the Fast Moving Consumer Goods (FMCG) logistics sector in Southern Africa. At the heart of its business is a state-of-the-art Mercedes-Benz Truck fleet, transporting all kinds of temperature-controlled and dry products on behalf of clients that supply to major retailers. Aspen Logistics is very pleased that the additional trucks will support its single-minded focus on expanding its geographical footprint and will further contribute to enhancing its service levels in the region.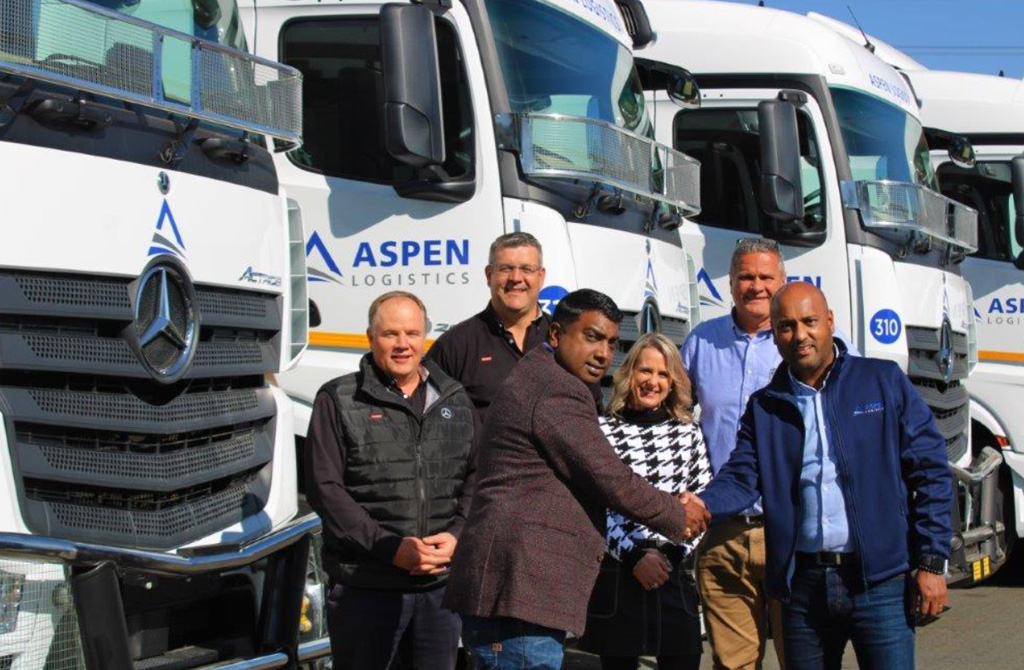 Maretha Gerber, Vice President: Sales and Marketing Daimler Truck Southern Africa weighs on the unabated partnership: "I am truly honoured to say that this handover is a commemoration of a strong partnership with one of the giants in the FMCG industry who boasts years of exceptional service under its belt. This is certainly a big leap toward our path to providing mobility solutions to our customers and happy to have been able to fulfil their requirements. Our trucks are known for being reliable, safe, and fuel-efficient and are well-suited to Southern Africa's operating conditions and road networks. We are delighted to have been awarded this business and to continue to be a brand of choice to Aspen Logistics, we wish them further growth in their operation".
McCarthy Kunene Commercial Vehicles is a franchise dealer and a wholly-owned subsidiary of Bidvest McCarthy dealerships. Over many decades, the dealership has been providing world-class products and aftersales services to Aspen Logistics.
"It is fulfilling to witness Aspen Logistics' exponential growth over the years and how our partnership continues unrelieved. Thank you for your unrelenting trust in our brand, our doors are always open for you", concludes Paul Croxon, Dealer Principal: McCarthy Kunene Commercial Vehicles.