New Holland Construction now forms part of a fully-owned CNH Industrial legal entity based in South Africa which will strengthen the brand's local presence and the exceptional customer experience that customers are already used to.
With the recent acquisition of the brand and taking full operational management of its commercial distribution and aftermarket network, CNH Industrial will strengthen the relationship between the New Holland brand and its customers in the Southern Africa market.
New Holland Construction South Africa is a key player in the construction equipment industry born of the rich heritage of brands that made the history of this sector. With a well-established dealer network throughout the country, New Holland Construction South Africa is able to provide comprehensive service and technical support to its diverse customer base throughout the country.
In partnership with a worldwide network of dealers, the company delivers products and services that meet all customer requirements such as productivity, safety, environmental performance, fuel efficiency and cost effectiveness. The company knows its customer's business which is why it provides them with a full line of innovative products and services designed for the specific applications of their industry.
Stronger, faster and highly efficient TLB's
Models: B115C, B80B, B90B
The New Holland B-Series backhoe loader range, known for having the largest cab in the industry, offers a comfortable working environment for the operator. The B-series TLB range boasts a spacious cabin with high visibility, comfort and safety to ensure optimal productivity on site.
The cab offers excellent visibility to the rear and to the bucket edge. The large, glazed windows and narrow cab pillars put you in command with clear, all-round visibility. There is a good view of the attachment and corners, which improves comfort and worksite safety for greater productivity.  All the controls have been specially positioned to offer easy access and faster control.
The inline cylinder backhoe provides high performance in terms of lifting capacity, digging depth and digging force and raises a new standard in this machine segment.
The new generation S8000 engine, developed by Fiat Powertrain Technologies Industrial (FPT Industrial), is a 3.9-liter, 4-cylinder engine that is turbo-charged after cooling with a mechanical injection system. The S8000 provides outstanding performance, such as High torque output with great fuel efficiency.
This TLB range offers safe and easy maintenance points from ground level with best-in-class accessibility providing excellent ground level access to the engine and service points.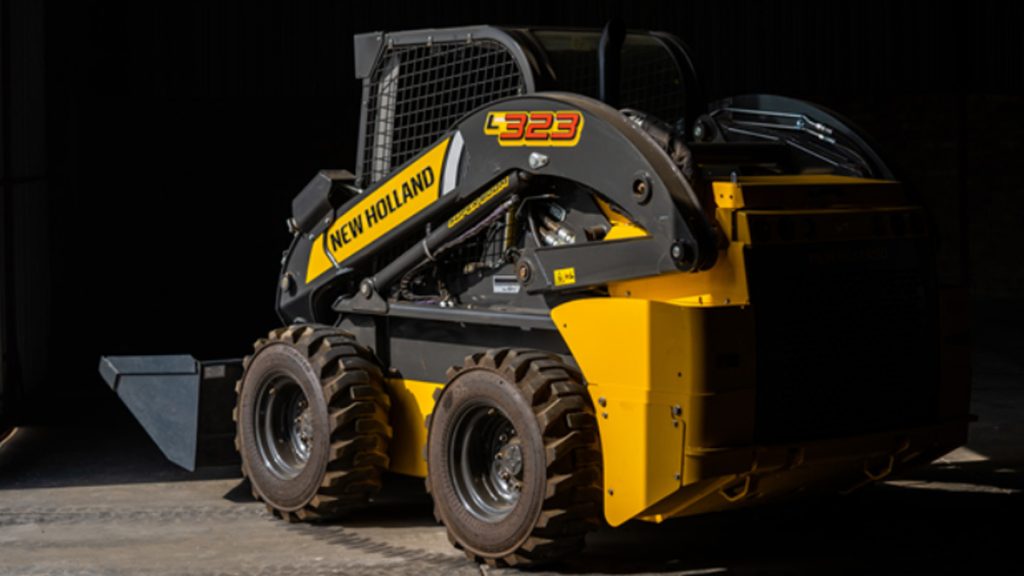 Work more efficiently with New Holland Skid Steer loaders
Models: L313, L323, L325, L318, L320
No matter what your industry – construction or agriculture – you will do your work more efficiently with the New Holland 300 Series Skid Steer Loader.
The new range of New Holland 300 Series Skid Steer Loaders and Compact Track Loaders delivers on its promise. These 60 to 90 HP gross horsepower Skid Steer Loaders offer unmatched performance and versatility. Whether you're a farmer or a contractor the new 300 Series Skid Steer Loaders and Compact Track Loaders are designed to support you and your operation.
Unmatched dump height and reach, The New Holland patent Super Boom® arm provides more height and unloading reach, allowing the operator to better distribute the load in high-rise trucks or silos which increases stability.
The skid steer loader cab offers more comfort for the operator ensuring high productivity and efficiency on site. Joysticks are ergonomically designed to place all the commands at the tip of your fingers.
These models offer a choice between an open environment canopy and a fully enclosed cab. The air vents are strategically located, for better thermal distribution inside the cab and quick demisting of the glazed area, when necessary. New Holland knows that comfort is not simply a luxury item, it is essential to your business. An operator, feeling comfortable, works longer hours, with less fatigue. Therefore, we make sure to build additional comfort when designing the 300 Series.
With regard to maintenance, New Holland understands that the machine downtime is a loss of income and that daily maintenance will be well performed if control points are easily accessible.
Although the 300 Series Skid Steer Loaders have been completely redesigned, they honour New Holland's long history in the skid steer loader market, while still maintaining the essential design features that made them so productive. The New Holland heritage: to handle larger loads and move them faster. The 300 Series Skid Steer Loaders provide the best stability and visibility allowing operators to move larger loads and work at a new level of confidence.