Manitowoc's Andrew A. Youssef and Liebherr's Marius Kleck speak to James Morgan about the ever-rising demand for mobile cranes across the Middle East.
Thanks to their speedy setup times, versatility and – as the name suggests – mobility, mobile cranes have represented a go-to utility tool for Middle East contractors for decades. From the region's iconic skyscrapers and large-scale residential projects to its maritime and energy sectors, these fleet-footed heavy lifters have played a pivotal role in the Gulf's rapid development.
Analysts from Business Market Insights expect the Middle East and Africa's (MEA) mobile crane market to reach almost $1.9 billion within the next five years, compared to approximately £1.7 billion in 2021. And while a compound annual growth rate (CAGR) of 1 percent during 2021-28 may not sound ground-breaking, remember: we're talking about huge numbers.
US-headquartered Manitowoc Company, the organisation behind Grove mobile cranes, has been extremely busy in the Middle East in recent years. Andrew A. Youssef, the manufacturer's General Manager – Middle East, Africa and CIS, tells Plant & Equipment that Grove cranes have supported the development of a number of high-profile regional projects, including Riyadh Metro and King Salman Park in Saudi Arabia, and the North Field Expansion (NFE) project in Qatar.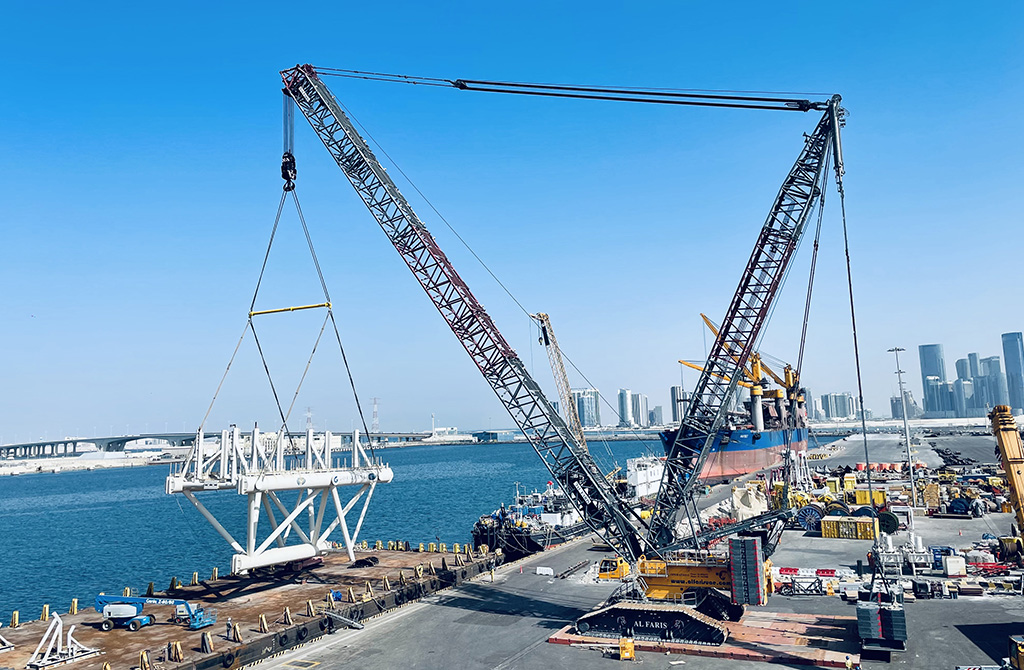 "A Grove GMK6300L, sold by our dealer Mannai, was also used in the construction of the 68,895-seat capacity Al Bayt Stadium for FIFA World Cup 2022 Qatar," Youssef adds. "You may remember that this stadium was among the tournament's most unique as it resembled a traditional tent used by the host nation's nomadic people."
Commenting on his employer's expanding order book, Youssef continues: "Like other heavy machinery manufacturers, Manitowoc has benefitted from a market resurgence over the past 12 months in the Middle East. This uptick has resulted from a culmination of pent-up demand, supply chain stability and megaproject announcements.
"Our office in the Middle East was able to capitalise on this market upswing thanks to Manitowoc's success in controlling costs, producing accurate forecasts and remaining in constant communication with its customers and dealers," says Youssef. "We have seen new machine sales increase across both mobile and tower product lines. Most notably, our mobile aftermarket sales have grown by 46% year-on-year, as customers look to refurbish their Grove cranes to compensate for extended lead times and reduced availability for new units."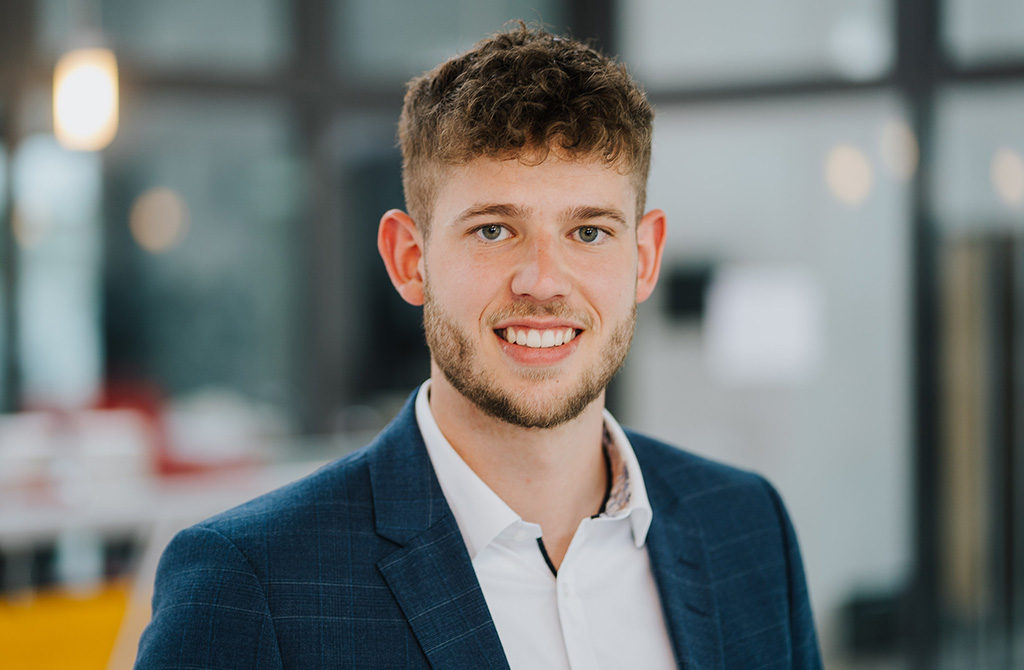 German-Swiss heavy equipment giant, Liebherr, also appears to be enjoying a purple patch in the Middle East. Marius Kleck, Area Sales Manager – Middle East and Central Africa, says the manufacturer has witnessed increased mobile crane requirements across the region.
"Looking back, the past 12 months were very good for the mobile crane industry," Kleck says. "Demand has been at a very high level, primarily in Saudi Arabia and Qatar. Liebherr has also exported some units to Kuwait, the UAE and Iraq.
"We are still seeing high demand in Saudi Arabia, especially in the Eastern Province," he continues. "This is being driven by new activities in the oil and gas sector from Saudi Aramco and its affiliated companies, but also by projects associated with NEOM, such as The Line, Oxagon, The Spine and Trojena."
Manitowoc's Youssef certainly seems to agree with this assessment, noting that regional demand for mobile cranes "is at an all-time high", thanks to programmes and initiatives including Saudi Vision 2030, Qatar NFE, Palm Jebel Ali in the UAE, and a range of energy transition projects.
"When I look at the mobile crane market, I think it is due for a renaissance," Youssef explains. "The last large-volume cycle was from 2011-14. In 2015, oil prices dropped, leading to the market buckling and a tough period from 2016-19. We were poised for growth in 2020, but we know what happened next. The market adopted a 'wait-and-see' approach into late-2021 as shipping prices settled. We finally saw a return to normalcy in 2022, but that was also short-lived. As the conflict between Russia and Ukraine started in February of last year, supply chains became chaotic again, and it was unclear what would happen next.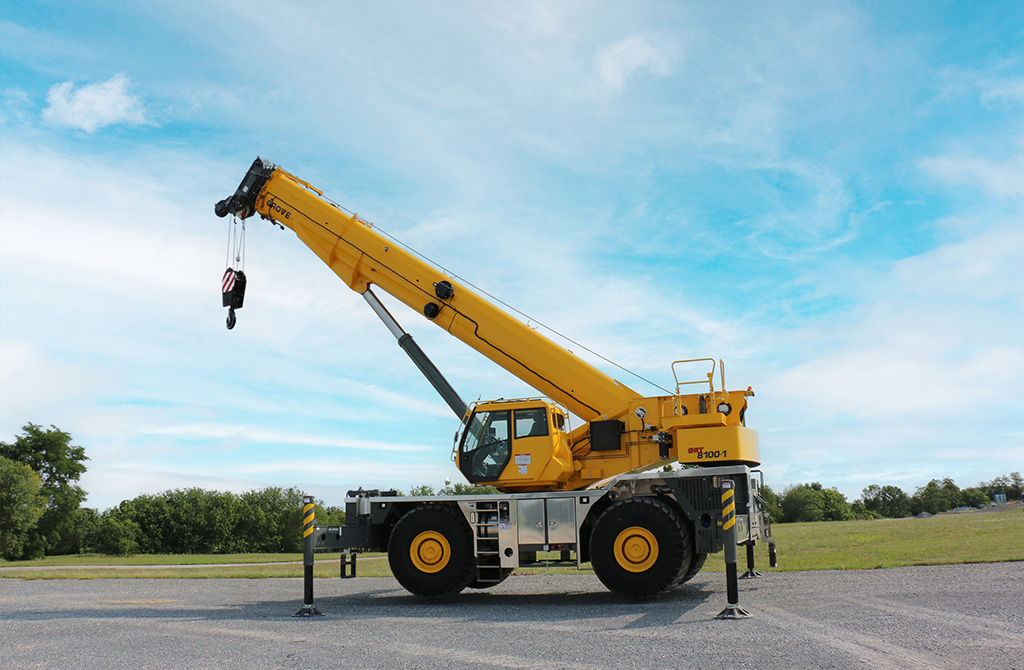 "Rising oil prices and an exodus of foreign direct investment (FDI) from Russia created a perfect storm of investment opportunities here in the Middle East, in what is perceived to be a safe market," he adds. "Customers who were looking to renew their fleets in 2020, 2021 and 2022 are now facing a bottleneck as manufacturers don't have the production capacity to support demand. Consequently, we are seeing a shift in the model mix; customers want heavier-capacity cranes with longer booms, and Manitowoc's product line caters to these requirements."
In terms of the sectors currently fuelling orders for mobile cranes in the Middle East, Liebherr's Kleck highlights the oil, gas and petrochemical sector as the biggest driver, followed by construction-related projects. "In addition, there are various infrastructure initiatives such as ports, airports and railway developments designed to improve transportation within the region," he adds. "We are also seeing significant opportunities within the renewable energy sector, both for larger mobile cranes and crawler cranes."
Manitowoc's Youssef says: "We are seeing two types of demand across the Middle East: base and vision. Fleet-renewal activities are supporting base demand in oil and gas, infrastructure and general civil construction. Then there is vision-related demand, which is being driven by speculation based on gigaproject announcements from the UAE and Saudi Arabia. Rental companies and contractors are getting the signal that they need to start building their plant capacity to win contracts."
Youssef highlights three Grove models that are proving particularly popular among Middle East customers at present: the GMK5250XL-1, which boasts a 78.5m boom and 250t capacity; the GMK6300L-1 with its 80m boom and 300t capacity; and the GRT8100-1, which features a 12-47m full-power MEGAFORM boom and a 100t capacity.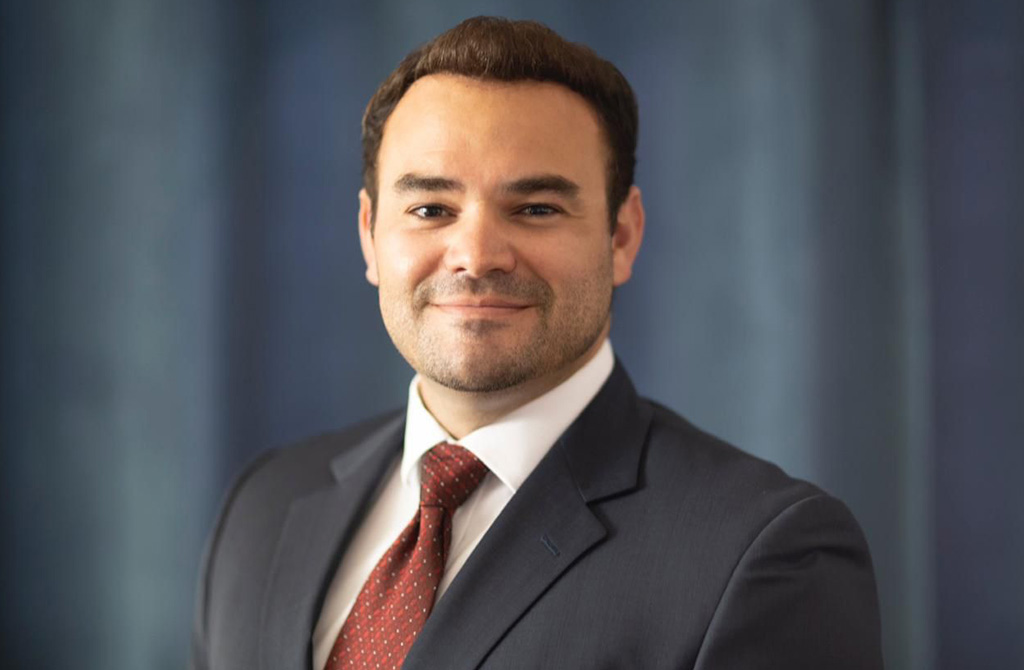 "With its small footprint and excellent manoeuvrability, the GMK5250XL-1 has a single-engine design as well as one of the longest booms and highest capacities in the industry," he says. "The GMK6300L-1 continues the success story of the GMK6300L, offering even better lifting capacities, especially on the long boom. The GRT8100-1, meanwhile, integrates the wide cab and carrier of the GRT8120 with the superstructure of the GRT8100, delivering improved operations, easier serviceability and added jobsite flexibility with its MAXbase outrigger system."
Commenting on Liebherr's most sought-after mobile cranes, Kleck says: "In the all-terrain segment, the most popular models are the LTM 1120-4.1, LTM 1150-5.3, LTM 1300-6.3 and, of course, our LTM 1650-8.1. In the rough-terrain segment, both of our models – the LRT 1090-2.1 and LRT 1100-2.1 – are in high demand.
"Each of Liebherr's crane concepts offers special advantages that cater to current requirements in the Middle East," Kleck explains.
"However, in general, maximum performance combined with compactness, innovative technology and high-standard safety features are the main priorities for our customers."
Looking ahead, Kleck predicts that regional mobile crane demand will continue to rise, highlighting the Red Sea Project, NEOM, Qiddiya in Riyadh, oil, gas and petrochemical activities in the Eastern Province, and the transmission line project in the Western Province as key drivers in Saudi Arabia. In Qatar, he believes demand is likely to be mainly driven by liquefied natural gas (LNG) projects.
"The Middle East is very promising," Kleck concludes. "Liebherr is expecting to witness high demand for lifting equipment over the coming 12 months and beyond."