Wheeled excavators are not widely utilized in the Middle East, but they have some important benefits on jobsites, such as faster transit times and limiting surface wear, compared with tracked excavators.
While wheeled excavators are widely used in markets in Europe, they're little utilized in the Middle East, where the preference is for tracked excavators.
Adrian Hall, Product Director – Heavy Products at JCB, notes that wheeled excavators are an ideal tool for truck loading in tight quarters, minimising lane closures, undercutting concrete or asphalt, patching, shoulder work, kerb and gutter repair, landscaping, spreading top soil, fine grading, laying pipe, placing manholes or ditch cleaning.
"The rubber tyres also allows the excavator to travel paved roads, work in shopping malls, squares, parking lots, city and urban centres and other paved areas without damaging the pavement and kerbs," says Hall.
Where do wheeled excavators have the chief advantage over crawler machines? "Typically, if the application calls for a lot of travel to, from, and around the job sites, a wheeled-type excavator could be the better choice," explains Hall.
"A wheeled excavator's mobility allows fast independent travel between jobsites as well as on the jobsite giving you more job planning flexibility."
Contrarily, "If the job involves less travel within a jobsite or frequent re-positioning, where raising and lowering outriggers would take extra time or has a severe underfoot condition requiring increased floatation, a track-type excavator would provide better operating efficiency," he notes.
JCB offers a number of wheeled excavators, including for material handling applications, namely the JS145W, JS160W, JS175W, JS200W models for construction applications, and the JS20MH Material Handler.
The range-topping JS200W weighs in at 23.2 tonnes, with a 1.19m3 bucket capacity, and is powered by a 128kW JCB engine.
Design-wise, the machine has a closed box section revolving frame which increases strength and reduces stress. It also makes this excavator highly resistant to impact damage. The JS200W's reinforced boom and dipper is made of high tensile strength steel, with single piece wrapper plates and internal baffle plates for long life durability.
The broader range has a number of common features, including high quality component such as JCB engines, pumps, valve blocks and a choice of JCB or ZF axles. In-house design of structures ensures robust design of excavator boom/dippers and revolving frame.
The range features JCB Dieselmax engines from 4.4L 97kW (130hp) to 4.8L 129kW (173hp), says Hall. "Our engine technology is tried and proven; we've built Dieselmax units since 2004. The engines in our wheeled machines were tested for 110,000 hours in 70 different machines across the toughest applications and environment. These engines have been optimally tuned and integrated to work with the JCB wheeled excavator range."
Additional features include industry leading servicing and service intervals, with ground level servicing, and easy access to filters and daily checks. The machines have single point remote greasing for upper structure and auto check of engine oil and coolant level on machine start up.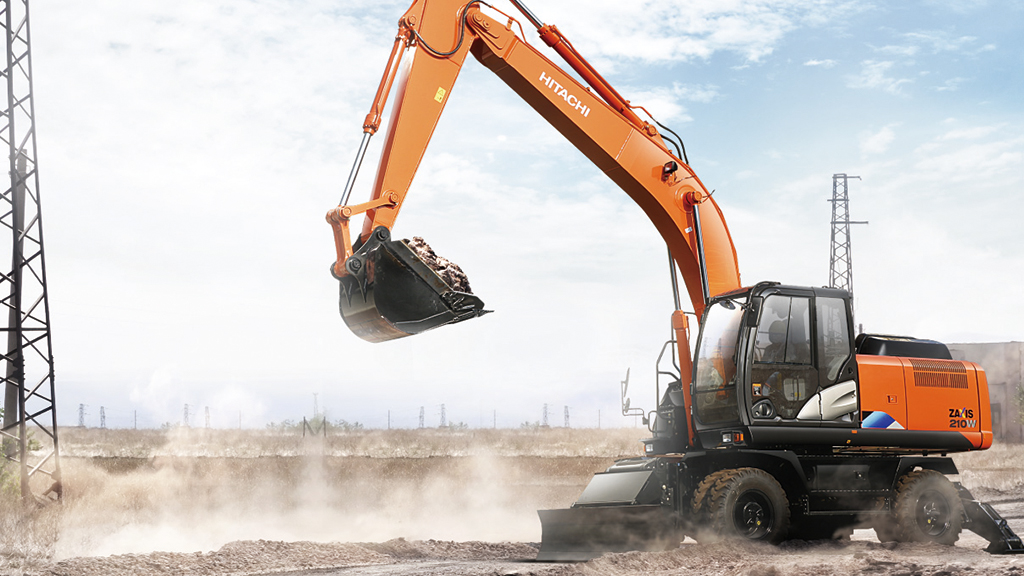 Reliable engineering
Another OEM offering wheeled excavators is Hitachi Construction Machinery, which offers a range of models in the Middle East. "Hitachi's wheeled excavators bring you the same quality that is built into our renowned excavators. These well- designed, reliable machines give you the mobility you need for your construction needs," said a company spokesperson.
"Hitachi has always been known for the controllability and durability of its crawler-type excavators. We put the same engineering excellence into our wheeled machines to give you high quality equipment that you can rely on."
"Our wheeled excavators are fast, and they offer mobility when you need to save time for job-to-job movement. They are also multi-purpose like the crawler type excavators, as the front attachment can be switched." They are recognized for their high swing speed which improves production.
Models include the ZX170W-5A, 190W-5A, and 210W-5A. Benefits of the 21-tonne 210W-5A include low fuel consumption and high durability, all of which serve to ensure low running costs. Swift front movements and easy operation help boost job site productivity. The machine has a 113kW (154hp) rated engine, while heaped capacity of the backhoe bucket is 0.80 – 0.91 m3, making these machines powerful workhorses for any jobsite.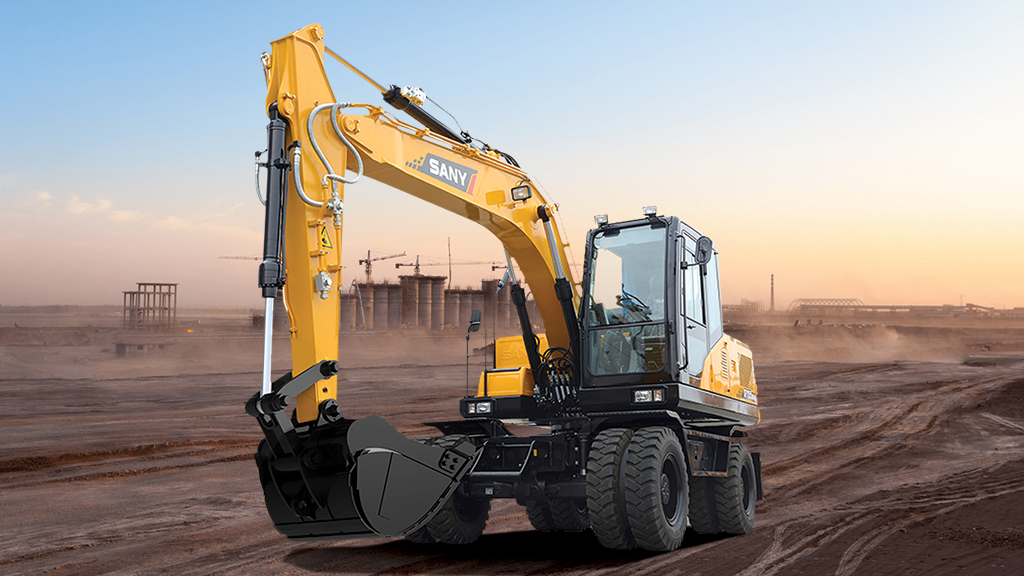 Fast mobility
Chinese equipment manufacturer Sany is known for its wide range of construction equipment, including wheeled excavators. Key models include the Sany SY155W and SY65W wheeled excavators. The 13.5 tonne SY155W has a 0.58m³ bucket capacity, max horizontal reach of 7.96m and a transport length of 7.69m.
A positive flow hydraulic electronic control system brings better operation accuracy, and operators can achieve real-time and accurate control of the throttle by switching between different modes such as traveling and digging.
When it comes to maneuverability, the SY155W has four-wheel drive and large ground clearance for excellent off-road capability. For use on large job sites, or travelling between sites, the capability of traveling in high speed greatly shortens transit times, boosting overall productivity.