Liebherr, Tadano and Johnson Arabia tell James Morgan why even COVID-19 hasn't stopped mobile cranes doing the heavy lifting on the Middle East's construction, infrastructure and energy projects.
While few would argue that the global pandemic has been beneficial for the Middle East's construction equipment market, many within the region's mobile crane sector remain pragmatic about the effects that have been felt so far, not to mention optimistic about their companies' prospects for the future.
And why not? The sector's long-term forecast certainly looks rosy. ResearchAndMarkets.com estimates that the size of the GCC construction equipment market will increase to approximately $3.72 billion within the next five years, reaching a volume of almost 100,000 units and growing at a compound annual growth rate (CAGR) of 7.34 percent during the period 2021-27.
Clearly then, the mood of optimism that exists among the biggest players within the Gulf's mobile crane sector goes far beyond wishful thinking. But are they just putting on a brave face? Not according to Wolfgang Beringer, the man responsible for Marketing and Communication at LiebherrWerk Ehingen GmbH.
"We are happy with our performance in the GCC market over the past 12 months, and our 2022 order book is also looking healthy," Beringer tells Plant & Equipment. "Saudi Arabia and the UAE are important markets for Liebherr when it comes to lifting equipment. We sell a lot of mobile cranes in both countries, year in, year out."
Business has also remained strong for Japanese equipment manufacturer Tadano, which has witnessed healthy demand for its mobile lifters. Yasutaro Fujita, Sales Manager at Tadano ME Lifting Equipment Trading LLC, is pleased with the levels of demand witnessed this year. "A lot of projects have been placed on hold, cancelled and postponed because of COVID-19, and oil prices fell during the pandemic, yet Tadano's performance in the GCC has been good during the past 12 months," Fujita explains.
Similarly, UAE-based equipment rental company Johnson Arabia appears satisfied with market demand. Mohammad Fareed Naser, Executive Manager (UAE & Oman), Johnson Arabia LLC, notes: "We have successfully navigated the difficult times during the pandemic. The wellbeing of our employees has been our top priority and we have strived to deliver the best possible service throughout, in order to meet our customers' requirements and ensure they are satisfied."
Mobile cranes boast applications across a broad range of projects, and it seems that the versatility offered by these units has been the primary reason behind their resilience during the global pandemic.
"Oil and gas, construction, infrastructure and power projects – including clean energy – are all driving demand for mobile cranes in the Gulf," says Fujita. "Tadano's rough-terrain models tend to be the most popular among GCC customers, especially within the oil and gas sector. When it comes to clean energy, our mobile cranes are mainly supporting projects in the UAE and Saudi Arabia."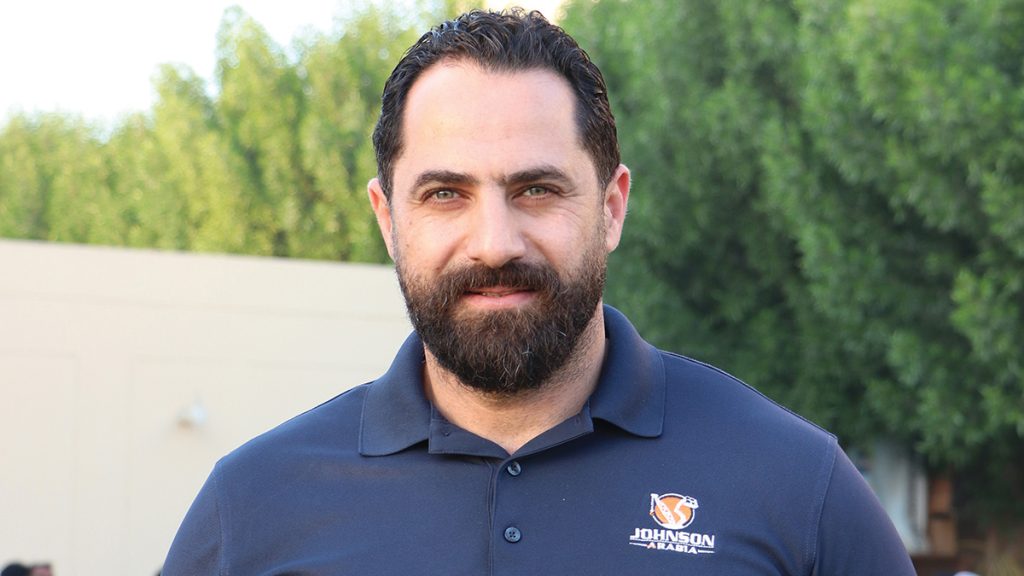 Johnson Arabia has also been making headway within these sectors, with energy projects driving bookings for its rental units. "The oil and gas industry is creating noticeable demand at present," says Naser. "Projects such as refineries, oil storage tanks and shutdown activities are common among our customers. We have also witnessed solar energy and substation projects driving increased demand for mobile cranes."
Commenting on the current preferences of Johnson Arabia's customers, Naser continues: "In the mobile cranes segment, we would consider levels of demand to be medium to high, especially when it comes to smaller capacities ranging from 50t to 160t. Both for rough- and all-terrain mobile units, our most popular models are 100t class cranes because they're ideal for general lifting requirements. Our larger capacity cranes – up to 700t – are also required from time to time. It just depends on the weights being lifted and the configurations necessary for particular jobs."
The UAE and Saudi Arabia are clearly key markets for the GCC's mobile crane suppliers at present, but what about in the longer term? While Beringer expects both countries to remain focal points for Liebherr's regional sales, he is particularly ebullient about the manufacturer's long-term business prospects in the Kingdom.
"Infrastructure and general construction projects are growing, and this is especially the case in Saudi Arabia, thanks to Vision 2030, a burgeoning tourism sector and its reduced dependency on oil and gas," he says. "Over the coming years, we expect KSA to further reduce its dependence on oil as it drives forward with the transformation of its society, culture and economy. Consequently, significant investments are likely to be made in infrastructure projects, tourism, urban development, health and education."
In terms of the specific segments driving demand for mobile cranes, the Gulf's rental equipment market is a mainstay for Tadano's operations.
Yasuaki Kishimoto, CEO and President of Tadano's Middle East subsidiary, says: "I would estimate that rental companies account for upwards of 80 percent of our mobile crane demand in this region, as they are the ones supplying the majority of contractors and end users. The rental sector certainly accounts for most of Tadano's trade in the GCC."
All in all, it appears that the GCC mobile crane market is in rude health despite the challenges posed by coronavirus. But what about 2022 and beyond?
"In the future, we expect Saudi Arabia to become the main hub that connects Africa, Asia and Europe," says Liebherr's Beringer. "But also, other countries like the UAE are pushing forward with important developments such as green technologies, in line with their goals to become carbonneutral societies within the coming decades."
Johnson Arabia's Naser seems similarly positive about the coming year. "Numerous project awards have already been announced in the UAE's oil and gas sector for 2022, and we expect these to increase demand – not only for mobile cranes but also within other equipment segments," he explains. "While the country's construction sector remains a little slow, we are nevertheless expecting more projects to be awarded following the conclusion of Expo 2020 Dubai."
Kishimoto is also optimistic, concluding: "We anticipate that next year will be an improvement on this year, with more projects coming online and new demand for Tadano cranes in the Gulf region. Hopefully, we will see demand come close to pre-pandemic levels."
---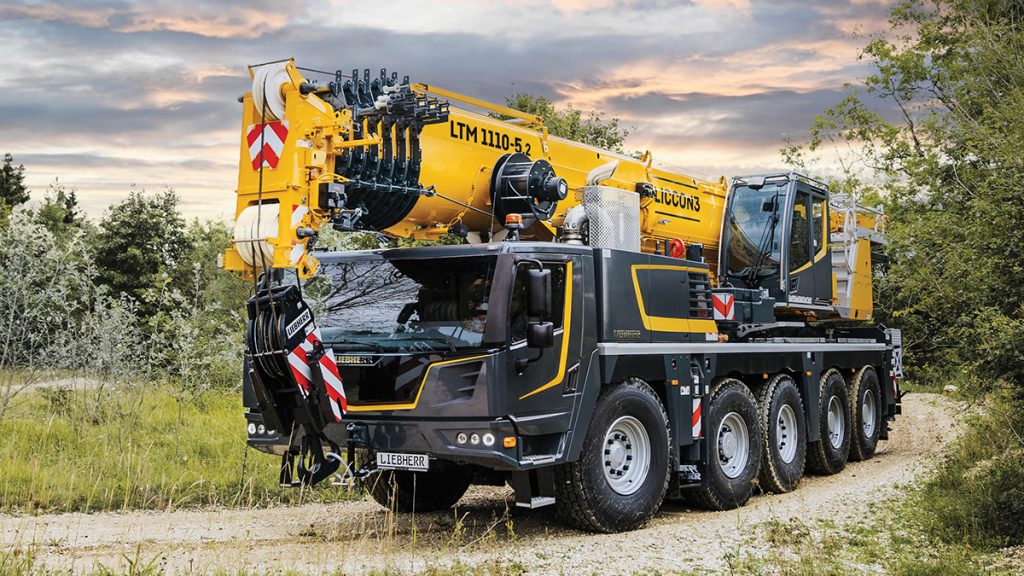 In focus: Liebherr LTM 1110-5.2
Capacity: 110t
Boom: 60m telescopic
Axles: 5
Operating system: LICCON3 crane control system
Gearbox: ZF TraXon DynamicPerform
---
New additions
While Liebherr, Tadano and Johnson Arabia supply a dizzying array of mobile cranes to Middle East customers, the leading players are always looking to supplement their offerings with new models likely to give them a competitive edge.
Commenting on the steps Liebherr has taken to bolster its line-up in 2021, Beringer says: "In the past 12 months, we have launched several new models: the LR 1700-1.0 crawler crane and the LTM 1150-5.3 mobile crane, as well as the LTM 1110-5.2 mobile crane, which boasts a completely new control system."
Fujita, meanwhile, notes: "We have released the Tadano GR-1000EX-4, a new 100t rough-terrain crane that features a 51m-long boom with multi-cylinder extension, a new touchscreen AML control system, and a range of innovative safety and economy-related functions."
"Johnson Arabia's fleet expansion and renewal process is ongoing," adds Naser. "We have enhanced our line-up with approximately 20 cranes of various capacities, ranging from 50t to 200t. The 100t Manitowoc | Grove GRT8100 rough-terrain model represents the most recent addition to our fleet. We plan to further grow our offering with spider mini cranes and other models over the coming year."