In the quarry and mining sectors, selecting the right provider for product solutions, as well as for mineral processing equipment such as washer plants, is essential for productive and reliable plants.
Based in the UAE, Quarry Mining has an exceptionally broad product offering, says Managing Director Moritz Kerler.
"We not only design and build crushing and screening plants but also bulk handling equipment, from conveyor systems including down-hill conveyors with power generation and seaport equipment such as ship loaders, barge loaders and port hoppers. Another field where we are active is truck- and train-loading systems for bulk solids, not to forget dedust filters and environmental solutions."
In a bid to address an absence of high-quality manufacturing within the industry in the Middle East and Africa region, the firm has also introduced a new line of business, contract manufacturing.
"Through contract manufacturing, we aim to deliver quality and niche steel products at a substantially lower price than that offered by our German and other European competitors," explains Kerler. "Our strategic location in the UAE also poses advantage for the customer in terms of lower freight costs and deletion of import tax, thereby substantially reducing the overall investment with no compromise on the quality."
Since inception, the strategy has been to target projects in the UAE, Quarry Mining's home territory, as well as regional projects and international markets, with the focus increasingly further afield, especially Africa.
"We have built our credibility in the Middle East market through numerous project executions for clients, to name a few such as Stevin Rock, Rak Rock, Ma'aden and Emirates Global Aluminum," explains Kerler. "This has helped us secure orders from European companies such as Haver Niagara, IBAU Hamburg, Knauf, Grenzebach when working to set up their plants in the African region."
That includes designing, building and installing a feeder system and crusher system for gypsum plants in Egypt and Tanzania, which gave the firm experience in these markets. "We were involved in these projects right from the conceptualisation of the layout, detailed engineering, fabrication at our in-house facility in the UAE and installation at site by our team in both Egypt and Tanzania."
In terms of Africa, Kerler says the top requirement is reliable machinery of the highest quality, with high productivity. The plants also need to be simple and easy to maintain.
Looking specifically at the range of crusher plants, Kerler says that with 40 years of experience the firm has a good understanding of AME market demands. "The important thing is availability of our plants. With proper maintenance, our clients can operate with availability of up to 96% even while operating at two-shift, 24/7. A low-cost operation is only possible with a reliable equipment supply."
Kerler says the focus is on integrating the equipment on a site and making the flow of material seamless with the conveyors, from receiving the feed to delivery of final products. "We work hand in hand with the client to understand their requirements and offer solutions that are technically and commercially feasible."
Moving to production, the company designs and plans crushing and screening plants with its in-house engineering team and does all steel work in its own factory, sourcing core equipment from notable European manufacturers, such as gear motors from Stiebel. Feeders, rollers and other moveable items are purchased from renowned European – mainly German – manufacturers.
"This makes our plants top-ranking in quality while we can offer them for very competitive price, as much value is added in the Emirate of Ras Al Khaimah at quite competitive cost."
A common industry headache when it comes to project execution is interface bottlenecks between contractors such as electrical and mechanical. These issues often prove to be difficult to resolve and can cause budget overruns, notes Kerler. By covering all the mechanical and electrical aspects of projects itself, such problems can be avoided.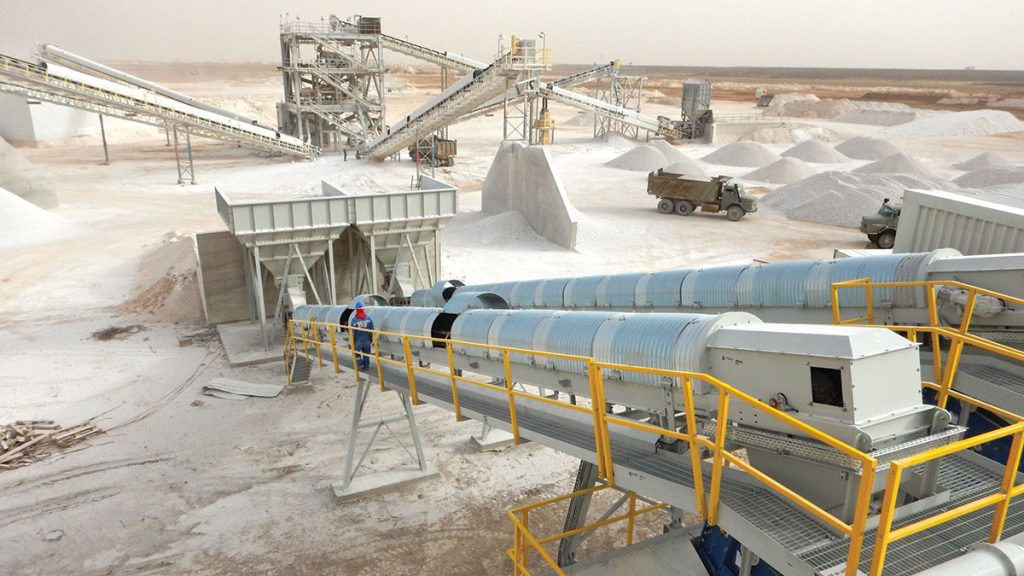 "We like to refer ourselves as international plant manufacturers, as each plant is unique in its design and poses its own challenges. Only a team that has executed diverse projects in the bulk material handling field can take them on comfortably and deliver a successful plant."
After-market support is naturally an important consideration. Quarry Mining is based in Ras Al Khaimah with over 140 staff, near Dubai, a logistics hub for Africa. Its installation team consists of over 30 experienced mechanics, electricians, welders and fitters.
It also has its own purchase company in Germany to guarantee fast and competitive supply of spare and wear parts. "Most of our clients have come back for repeat orders, which is a testimony of our reliable after-market support and services," Kerler concludes.
Washer plants, recycling solutions from CDE
Specialists in wet processing equipment, CDE Group is headquartered in Cookstown, Northern Ireland. The company has supplied plant to projects across Africa and the Middle East, both in the construction industry and mining, says Ruchin Garg, Regional Manager – Middle East & Africa at CDE Group. Major applications including equipment for sand, silica, and gold and diamond processing.
CDE's first major project in the MEA region were two sand washing plants in Qatar in 2009, used to wash sand from old riverbeds (wadi), helping reduce the country's reliance on imported materials. Each plant can process around 1000 tonnes per hour, and at the time they were installed they were among the largest in the world.
The company has been active in Africa since 2011, while in 2014 it opened an office in Dubai covering markets in the Middle East and Africa. "We see MEA as emerging markets that have a massive potential. We have a team on the ground to support sales and aftersales work and respond to our customers in real time," says Garg.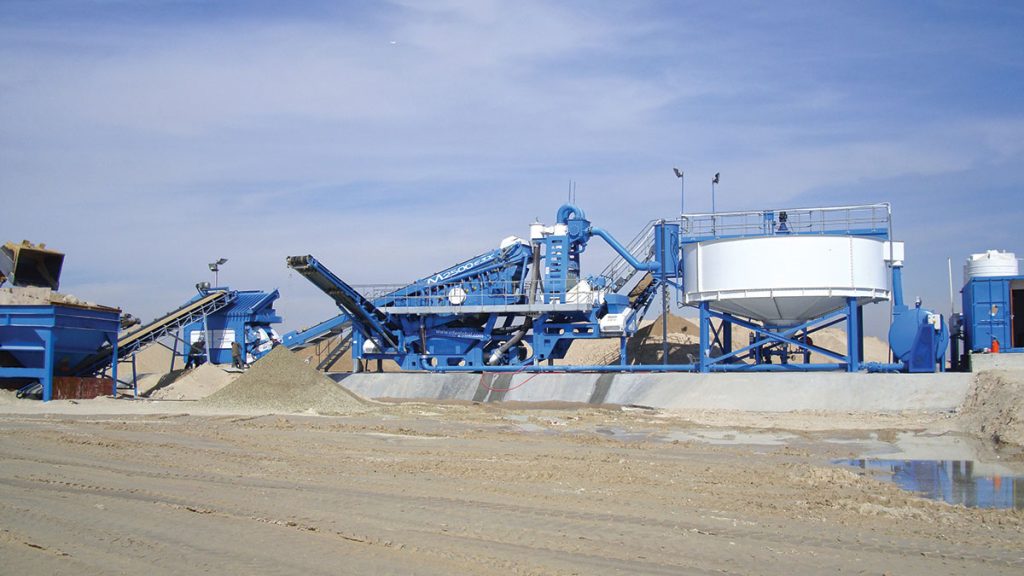 Recycling of construction and demolition waste is a major focus for the company. CDE plants have diverted more than 90 million tonnes of waste from landfills and provide reuse materials for construction projects worldwide.
CDE's machines have been deployed in markets in Europe, North America and Australia, notes Garg, where resources can be scarcer, and recycling is more advanced because it has been underway for longer. Using on-site recycling also reduces logistics costs, with fewer trucks needed to transport materials to the site, or to carry waste to a landfill.
Recycling processes are set to be adopted in the MEA region too. "With the quantities of sand we are being depleted for construction purposes, recycling of construction waste will eventually be adopted by all countries in the Middle East and Africa, but some specific countries will definitely be quicker," says Garg. "Looking at MEA, I see Qatar, Kuwait, UAE as the most promising markets, because of their market conditions and commitment to the environment."
Garg notes that some contractors are already recycling waste on site using mobile crushers and screens, but the possible applications are quite limited, such as road sub-base or general fill. Recycling with just a crusher and screener produces what is effectively a low value aggregate, says Garg. "If you want to utilise it in any different applications in construction, especially for non-structural concrete, it has to go through a process of washing."
The addition of a washing plant allows the contractor to use the material more widely on site, but also to sell it on to other contractors, helping to pay down the capital costs of investing in plant more quickly.
Using recycled aggregates for applications such as nonstructural concrete would require changes in local regulation. Garg notes that they have gained approval for recycled aggregates to be used in non-structural concrete in a wide variety of markets, including the UK, Norway, and France, demonstrating its potential.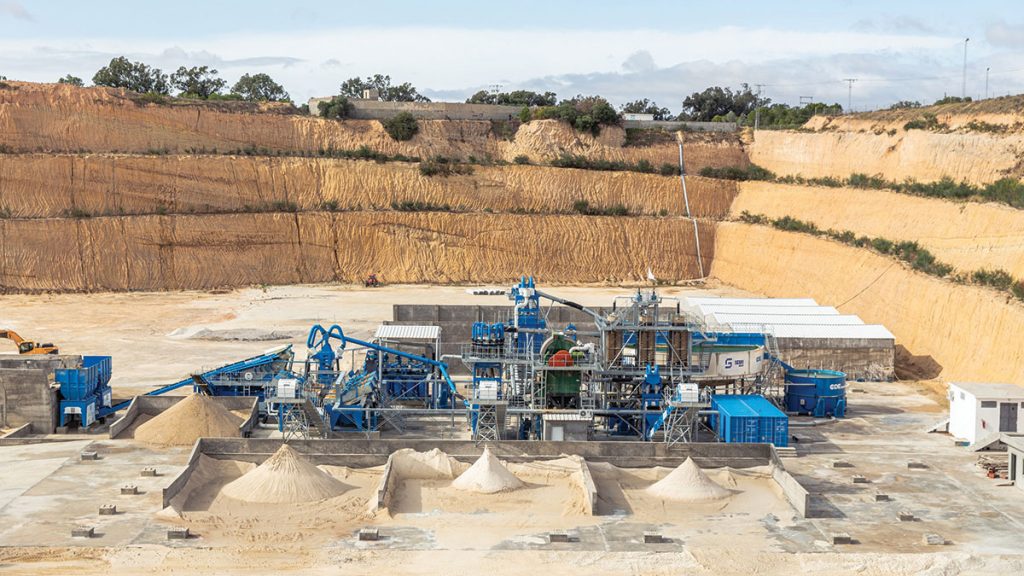 Meanwhile, CDE's sand washing applications, including products such as the EvoWash, are widely used through-out Africa, with around 40 plants, and another 100 in the Middle East. Washing sand is essential for use in concrete by removing contaminants whether chemicals or clay, while removing clay reduces the amount of cement needed for a batch of concrete. Overall, correct washing of sand can reduce the cost of cement on a project by around 2-3%, depending on the initial clay content. "It really gives you an impressive return on investment as a contractor for any structure you are building," says Garg.
CDE washer plants are commonly equipped with the AquaCycle, which recycles around 90% of the water back into the circuit. "Within the MEA regions, recycling the water is extremely important, due to the difficulties of accessing fresh water, considering the climate within the region. The AquaCycle allows immediate reuse within the system, which minimizes environmental impact as well as health and safety risks on site."
Another area of focus is silica. CDE have a major plant in Tunisia and another in South Africa, while there is also focus on Saudi Arabia. Overall, demand for silica is set to rise because of the large investments being made in industrial segments such as solar panels, glass, and semiconductors, says Garg. "They all need silica, and once the requirement for silica goes up, companies involved in its production will be looking to increase output. Our customer in Tunisia has seen how our advanced technology has allowed them to make such a huge impact on the glass sand industry in the North African market and has enabled them to become extremely competitive amongst an industry with very high standards.