Wheel loaders are a staple of many sites, and mature offerings from OEMs deliver high performance machines with improved comfort and controllability for operators.
Case Construction Equipment offers its range of F-Series wheel loaders in markets in Africa, including South Africa. "The F-series wheel loaders, with reduced emissions, also offer increased power ratings, additional lifting capacity and greater break-out force," said a company representative at time of launch. "Four models in the F-series are available locally – 621F, 821F, 921F and 1021F machines – each designed for efficient and safe operation in arduous applications in diverse industries, including construction, quarrying, mining and waste handling."
The Case 621F, 821F and 921F models have a 6,7 litre engine and the 1021F has an 8,7 litre engine, all with high horsepower and torque ratings to deliver the exact power required for each task. The standard four-speed transmission, with a lock-up torque converter for improved acceleration and safe hill climbing provides continuous short cycles for fast performance and high productivity.
Looking at productivity and operator controls, common-rail electronically-controlled diesel engines provide operators four work modes to choose from (economy, standard, auto and maximum power) for optimum efficiency in any application. Benefits include better use of available power, lower fuel consumption, reduced wear on the engine and driveline, lower noise levels and reduced overall emissions. Case's POWERINCH declutching feature ensures accuracy and control when operating in tight settings, especially during truck loading.
A single-lever loader control joystick incorporates a quick shuttle switch for faster, more precise operations. The operator chooses the working mode from within the cab, or the autopower facility can be selected, in which case the power curve is automatically matched to each application
Across the range, the cabs of the machines are reinforced and are ROPS certified, ensuring operator protection against roll-over. The loaders are also available with XR (Extended Reach) linkage for a greater dump height and versatility. Special solid, foam-filled tyres and tyre chains can be fitted to cope with demanding applications, for example, the handling of scrapped materials like iron, wood, glass, plastics and civil organic waste.
Optimized range
Shandong Lingong Construction Machinery Co., Ltd., (SDLG) began selling its wheel loaders in Southern Africa in 2012. Since then, the brand's offering has found favour across a range of industries and applications, including construction, quarries, bulk handling sites, salvage yards and an array of other industrial applications. The model range includes the LG918L, LG938L, LG958F wheeled loaders. The SDLG machines are characterized by attractive acquisition costs, as well as good productivity and durability.
Part of the new F-Series range, the 17.1 tonne LF958F is engineered for high productivity, with high breakout force, a rated load of 5,400kg and a new 3.2m3 bucket. The wheelbase for this model was increased to 3300mm to make it suitable for operation in heavy industrial and mining environments.
Reinforced drive axles with strengthened structure and rational load distribution have been adopted to realise larger bearing capacity, high reliability, and prolonged service life. Overall the machine is a good choice for mines, quarries, heavy-load spading, stripping of original soil and other heavyload conditions
Features of the LF958F include a powerful and efficient 6-cylinder engine matched to a new SDLG transmission, delivering maximum torque from the engine to the wheels. The larger cab features 20% more glazing for improved visibility, safety and efficiency, plus powerful air conditioning for greater operator comfort. In addition, the single joystick guarantees precise, easy and comfortable operation of the loader arm and bucket, reducing operator fatigue.
Looking at maintenance features and the design of the L958F ensures that service and maintenance is easily handled, with excellent accessibility throughout the machine. Optimised maintenance intervals now offer even better machine availability, contributing to lower ownership costs.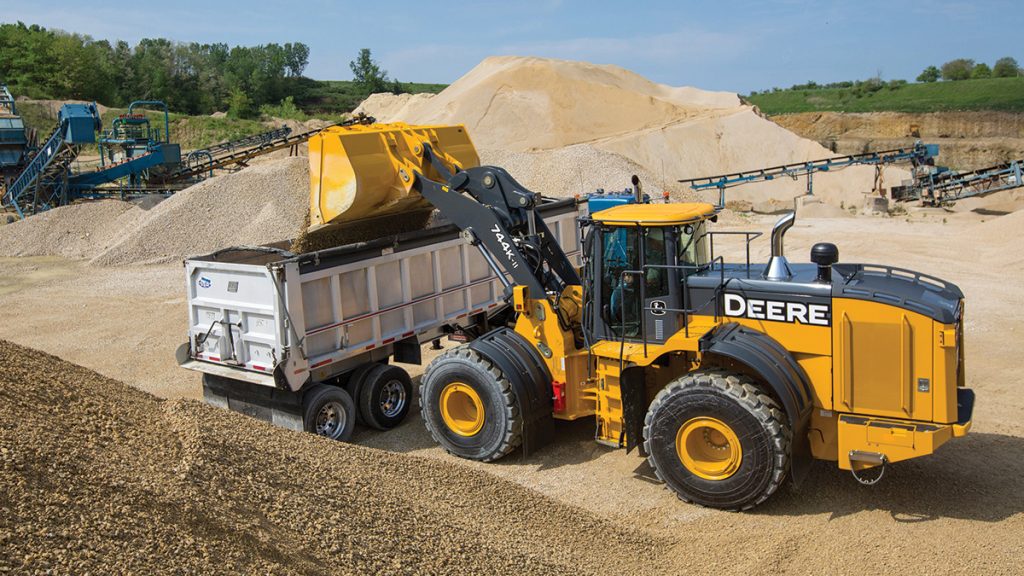 New dealers, expanded range
In March 2021, John Deere announced the expansion of its construction equipment line-up to 18 countries across Southern and Western Africa, and in April appointed a number of new dealers with dedicated personnel, equipped and trained to serve John Deere construction and forestry customers.
The brand offers a range of wheel loaders – in September, the brand launched the 744L wheel loader for markets in SubSaharan Africa, an addition to the five models already offered to the market. The 744L runs a 236kW engine, offers a 3.8 to 5.25 m3 bucket capacity range and has an operating weight of 25.3 tons, designed with the mining and quarry customer in mind.
Standard features include high-capacity heavy-duty axles with standard axle cooling and filtration to increase durability in demanding conditions. A five-speed transmission with torque-converter lockup in gears 2–5 increases acceleration, speeds cycles, and optimizes power and fuel efficiency during transport, roading, and ramp climbing; and a dedicated steering pump improves multifunction performance and fuel efficiency, while enabling faster steering, bucket raising, and cycle times than previous models.
The model has a redesigned cab, with a more spacious operator station, additional legroom, an improved HVAC system, extra storage, and a heated/ventilated adjustable seat. The loader's seat-mounted right-hand hydraulic controls are easier and more intuitive to operate than previous models, and feature two programmable multifunction buttons with new electrohydraulic (EH) controls. Additional control features include the ability to set boom and bucket aggressiveness to different levels – low, medium, and high – for quicker and more precise response compared to previous models. Joystick steering comes standard, with steering wheel as optional.
When it comes to serviceability, all daily service points, including fuel, are conveniently grouped on the left of the machine for easy access. Greasing is less messy thanks to centralized lube banks that are grouped for quick and convenient access to zerks. Auto-lube system is electrically powered and integrated with machine diagnostics.