While big OEMs dominate the machinery market, when it comes to attachments many smaller companies have compelling offerings for breakers, demolition equipment and augers.
The attachments market is one of the most competitive sectors in the machinery business, with in-house offerings from big-name original equipment manufacturers, attachment companies focused on niches in mining or demolition, and even small independent players.
In the breakers market, South Korean companies have established a name for themselves with attractive tools that straddle the sweet spot between quality, durability and price.
One of these is Bullstern, whose range includes vibro attachments such as vibro ripper and vibro hammer. Attributes include good build quality and features, serviceability and ease of operation, as well as enhanced productivity and uptime, says Kim Keunhyeok, Business Development Manager at Bullstern Attachment.
"In the case of vibro attachments, durability should be the highest priority," says Keunhyeok. "We can confidently say that we have an edge over our competitors in terms of durability. This confidence has been associated with many years of our innovation in manufacturing processes."
Commenting on productivity trends, Keunhyeok says one common mistake is users choosing an attachment based exclusively on their available excavator size, rather than based on what the ground or work conditions require. "In this case, it is highly likely that users will not get the results they want in terms of productivity, and it is likely to lead to disappointment in our product performance. For this reason, we first identify the conditions in which the equipment will be used, to provide the right attachments to the customers."
In some markets, contractors are seeing increases in restrictions on the use of breakers in built-up areas. "The low noise breakers are already on the market, but they cannot be completely free from noise complaints either. As a substitute for the traditional hydraulic breakers, vibro ripper is emerging as an alternative and is expected to expand in the market further in the future."
DOWIN is a Korean manufacturer of hydraulic demolition equipment which has established its reputation by providing reliable products along with reasonable price and strong after-sales support, says Key H. Kim, Marketing Manager. Its product range includes breakers, vibrating hammer/pile driver and multi-processors: shears, pulverisers and crushers. For brakers, the DOWIN T and G series offers 20 models ranging from 1-70-tonne excavators, which are very powerful and productive thanks to the cylinder-embedded control valve system.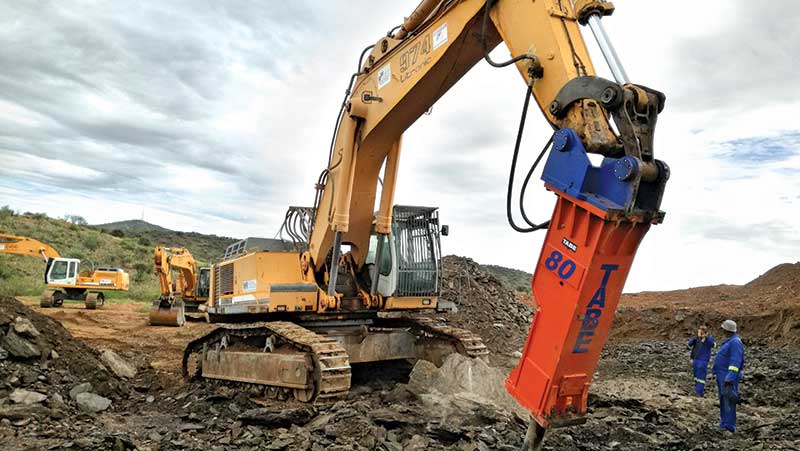 European manufacturers have a long history of building high-quality attachments. Spanish firm Tabe Hammers was founded in 1968 and still retains its entire manufacturing process in Europe. Its characteristic product is the hydraulic hammer, with a unique round design and recognisable bright orange colour, which the company has been manufacturing since 1979, says Amaia Romero Rubio, Export Area Manager at Tabe Hammers.
"Since 2007, our entire range of breakers (from 67kg to almost 8 tons) has been manufactured without through bolts. This makes their maintenance and repair easier and less expensive. The fact of being a smaller manufacturer makes the relationship with the dealer and customer very close and flexible; we can even adapt or customise the product for a specific client or job."
The type of work to be carried out and the weight of the machine are two fundamental variables when it comes to selecting the right tool, she notes. "Our range covers practically all the machines on the market, and we can adapt our products to any machine since we also design and manufacture the adaptor brackets."
When it comes to environmental concerns or regulatory requirements, such as dust suppression, noise, vibrations and on-site recycling of materials, Rubio notes that the firm's products are manufactured in Europe under European regulations, which are among the most stringent – if not the most stringent.
"We always see how Europe is setting the trend, and sooner or later [these requirements] reach the other markets. These are trends that are here to stay, as is happening with recycling of materials. In the same way, safety regulations and noise limitations are becoming clearer.
"The durability of Tabe products is something that makes our products more sustainable. In addition, at Tabe we work to reduce the consumption of our hammers while maintaining or even improving production. The market is increasingly demanding more sustainable, versatile and specialised products," she says.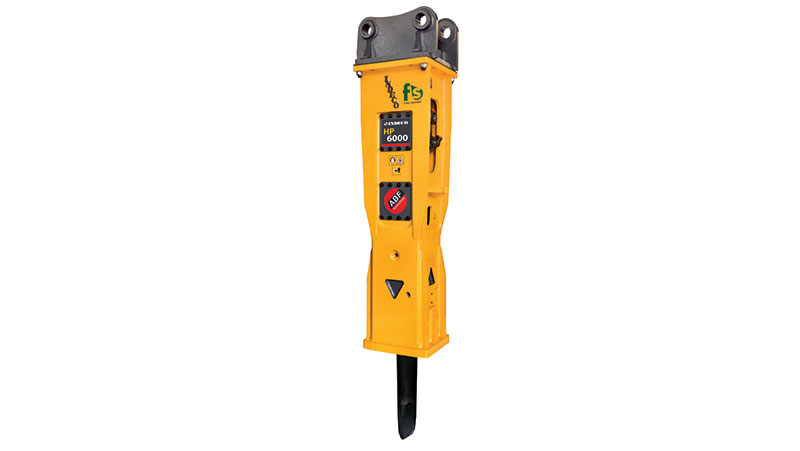 Also with a long history, Indeco of Italy offers a large range of breakers, especially the medium-large hydraulic hammers suited to the larger excavators now more commonly in use in construction equipment markets in Africa and the Middle East. These include the HP 4000, an ideal match for 28-30-tonne excavators, with a 2,500kg weight and 150mm tool diameter; the HP 5000, suitable for 30-35-tonne excavators; and the HP 6000, a perfect match for 36-40-tonne excavators.
Features of the range include a special intelligent hydraulic system, enabling the brakers to automatically vary the energy and frequency of blows according to the hardness of the material being demolished, thus improving productivity and enhancing the overall performance; a dual shock-absorption system; an anti-blank firing system; and a fuel-saving hydraulic system, increasing performance and reducing excavator fuel consumption.
The firm's tools are suited to construction, demolition, quarry and mining, and even niche industries, with an overall focus on high reliability and productivity, says Michele Alessandro Vitulano, Global Sales & Marketing Manager at Indeco.
"In general, Indeco is well known for the quality of its product. We dedicate a lot of our time and resources to the R&D department. As we have expanded our range beyond hammers, we have dedicated the same attention to the other attachments – the pulverisers, steel sheers and grabbers. The concept is always the same – we choose the best material possible, we apply our expertise in design and in hydraulics, and we manufacture everything in Europe and theUnited States."
Auger Torque Group, part of the Kinshofer Group, manufacturers a wide range of attachments, for the earthmoving, construction, and agricultural industries. The company increased its presence in the Middle East in a more serious way in 2016, following on from initial early successes and requests from customers; stock is now held in Dubai, along with an office and dedicated business development manager. Growth has continued with demand for earth drills, drum cutters for trenching, hydraulic hammers, augers, and other tools. Their large range includes attachments for machines such as excavators, skid steers, backhoes and telehandlers. North Africa is also an important focus for Auger Torque, says Rohan Saldanha, International Business Development manager at Auger Torque – key markets include Egypt and Morocco.
When it comes to drilling, their tools can be used to drill holes with diameters ranging from 100mm to 1.8m, and when it comes to depth the maximum achieved is around 18 metres. They have been used for a wide range of applications, including micro piling for foundations, dewatering, pre-drilling for sheet piling, high voltage pylon erection, palm tree plantation, street lighting and solar panel foundations.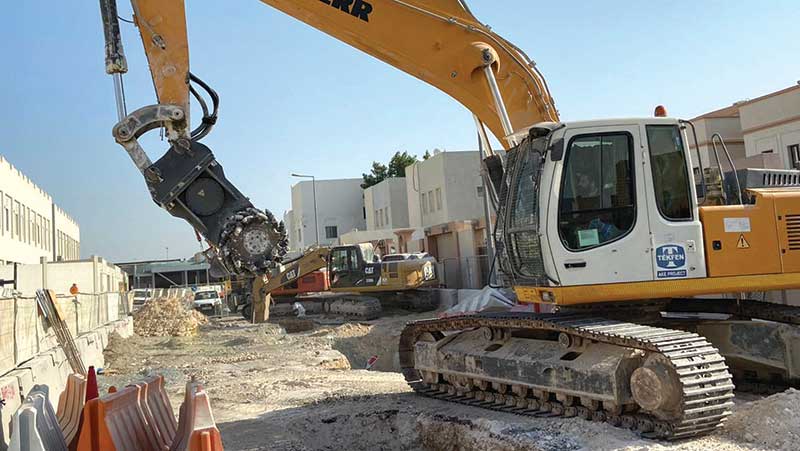 There are many advantages to the design of their augers including the development of anti abrasive flights and shallow pitch flights, which prevents spoil falling back into the hole as it is being drilled, something which is especially applicable for sand and light material. "You get much higher productivity with this design," notes Saldanha. There is also the patented Auger Torque shock Lock tooth locking system, where auger teeth are safely locked in place and protected against shock fractures and replacement of worn teeth is simple.
Ground conditions are perhaps the most important factor when selecting the right tool. With ground conditions from 50-70MPa it's possible to use the standard auger, but when the ground hardness is in the range of 70-100MPa they shift the type of auger from a flat boring head to a more tapered one, to fracture it. Anything over 100MPa and the auger will still penetrate, but drilling will take longer and the wear on the drill can be significant. The engineering team at Auger Torque undertake FEA analysis to ensure the product can undertake the job in hand.
"It's all about the economics of how much time it would take you to drill the hole, and the amount of cost that you would have to spend in terms of the teeth and everything involved," notes Saldanha. "But there are some cases where the customers have no choice – such as when consultants have barred the use of hammers due to sensitive infrastructure nearby."
Saldanha says they've developed a number of solutions to cater to demand in the AME region, including a specialized CFA system for drilling deep holes, especially when customers want to dig a deep hole using a thin auger matched with a smaller sized 20 tonne excavator. That solution is to offer an auger and extension kit with interchangeable connections, so that in the case of the extension being damaged the hex bar will likely break without damage to the auger, which can be quickly replaced and the extension reattached. They also use NM400 grade anti-abrasive steel, meaning that it will last 4-6 times longer. "This application has taken off really well. It lasts a lot longer and saves money for customers," he says. "The question we always ask is, what can we bring into the market to improve the efficiency and enhance the technological awareness of our customers? What can we do to make our customers' lives easier? It's not only about selling a product."