State-of-the-art articulated dump trucks and rigid frame haulers can provide maximum productivity for site operators when used effectively in conjuction with operator training and service contracts, to guarantee uptime.
Bell Equipment prides itself on being the producer and distributor of the widest range of articulated dump trucks (ADTs), ranging from the B18E up to the B60E. With its headquarters in South Africa and major representation around the world, including a factory in Europe and logistics centres in Europe and North America, the brand is especially strong in southern Africa, says Nick Kyriacos, ADT Product Marketing Manager at Bell Equipment.
Top selling models include the B30E 30-ton machine and the 40-ton and 45-ton ADTs, depending on the market. The B40E (39-tonne rated payload) and B45E (41-tonne rated payload) share a common engine platform and near-identical drive trains, making the service costs the same: the smaller variant appeals to rental companies, which typically offer the machine on a cost-per-hour basis.
For owner-operators, which typically calculate productivity of an ADT by looking at cost per tonne, the B45E offers an increased payload with the same service costs and only slightly higher fuel consumption, making it a more compelling machine for this segment.
Looking larger, the Bell B50E 50-ton ADT provides the benefit of the additional payload and good fuel economy, especially per tonne. "It's a 6×6 machine and one of our differentiators [in the 50-ton class] is that we are able to use standard production 875 tyres," says Kyriacos.
Wear on tyres can be a major cost for a fleet operator, often the largest after fuel. Maintaining haul routes, ramps and other site infrastructure is essential to reduce wear, but can only achieve so much when the ground conditions are heavily abrasive. "We get some hard rock applications where tyres don't last 2,500 hours. And then in an operation less than 300 kilometres away, they are getting 8,000-hour lives on the exact same tyre. So tyre wear is mainly application-driven, but it's a massive cost."
While Bell is exclusively focused on ADTs when it comes to haul trucks, its largest model, the B60E, competes with mid-range rigid haulers with its 55-ton payload. Notably, it has a 4×4 configuration.
"Rigid trucks are great for productivity if you're able to achieve maximum speed. But with safety concerns growing, we're finding more and more sites around the world are limiting their speeds to what's attainable with an ADT," says Kyriacos. "And when the speed is capped – whether it's 40km/h or 30km/h – you're not getting the benefit of that additional capital cost of a rigid truck and you're not getting the benefit of that additional fuel consumption."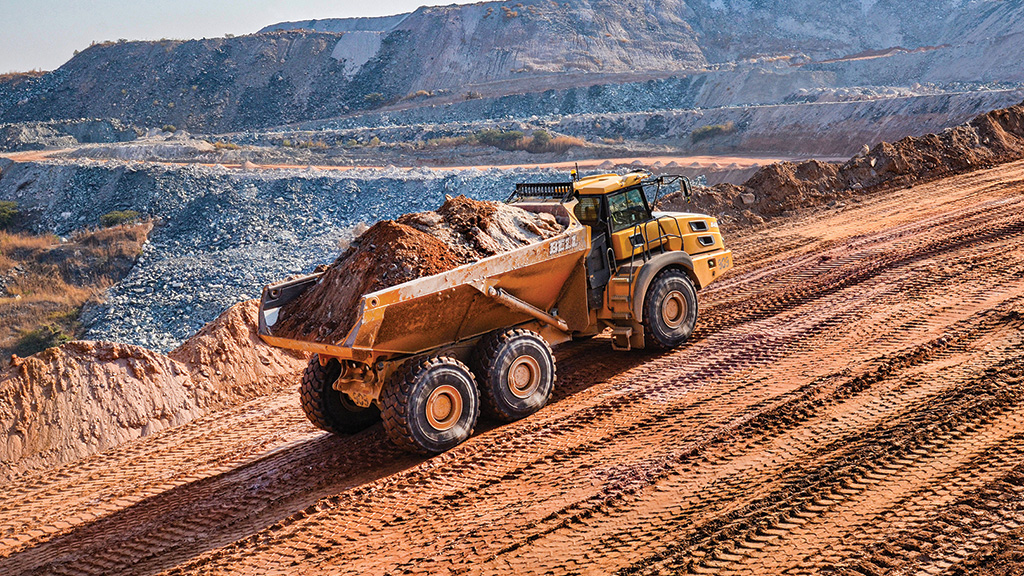 Meanwhile, a 4×4 artic hauler has better manoeuverability than a 6×6 model or a rigid truck, especially applicable for a sites with tight corners. Another advantage is improved tyre life for a 4×4 ADT versus a similar weight class rigid truck, given that rigids typically employ rear axle drive, meaning accelerated wear on rear tyres, while the B60E uses all-wheel drive. "We've achieved beyond 10,000-hour lifespan on tyres on the B60E front axle and 14,000 hours on the tyres on the rear axle in an application in South Africa," says Kyriacos. Another advantage is better performance in wet conditions than a rigid hauler, he notes.
Looking to the market conditions, typically there is wide variation across mining activities, given the diverging market cycles across commodities. That naturally affects capital investment in new equipment, and even demand for after-market services.
"We see consolidation periods when prices are down, we see decreased utilization at some stages, and then the absolute opposite, where sites are cranking out the tons, times are good and capex is available, and machines are bought cash. So it's a roller coaster."
That also affects demand for service contracts, depending on utilization levels and replacement cycles.
"We pride ourselves on our after-market business – we really work hard to keep our customers happy," explains Kyriacos. "A number of tailored products are offered with the sales of machines. We have Bell Care Package, which is a service offering tailored to a customers' machine utilization. Customers select the number of years and the number of hours per year they want coverage for. We also offer three different levels of extended warranty coverage: with drivetrain; with drivetrain and hydraulics; and then a fully comprehensive extended warranty."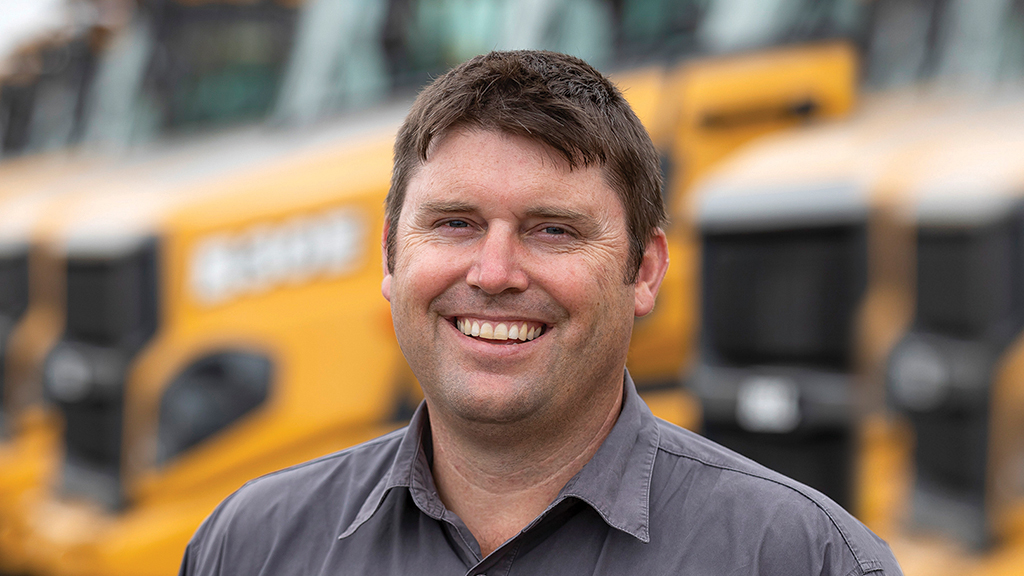 Rebuilds are also offered by Bell Equipment, allowing customers to receive a machine with a rebuilt drive train at certain intervals. "It's a major part of the circular economy, we're trying to maximise the life of our machines."
The durability of Bell's ADTs is demonstrated in the field: In the Middle East, they have a fleet of 40-ton ADTs with a customer that are running 60,000-75,000 hours. The fleet of around 30 machines was originally sold in the mid-2000s.
"Service and maintenance have got to be there. Durability has got to be there. We pride ourselves on building the residual value for our customers."
When it comes to technology solutions, on-board weighing is standard on the Bell range of ADTs. Used in conjunction with [email protected], the company's telematic system (available as standard for two years on trucks), it gives site operators a good overview of productivity, allowing them to ensure that the trucks are utilized to their full capacity and that loading processes are optimized.
"You can see the activity ratio, where you've got lots of unladen idle time or even laden idle time, where possibly there's congestion at the discharge point – and so that gives you an opportunity as a site manager to be able to go and and make the necessary changes in that area, to minimise the standing time and maximise productivity to eliminate wasted fuel and engine hours."
The weighing sensor also feeds into several other onboard safety features, such as Hill Assist. This ensures that a truck depowers and comes to an elegant stop if the driver removes their foot from the accelerator while driving down a slope. For hill starts, it uses the payload and slope angle to calculate the required torque and removes the park brake once this level is reached, meaning a smooth take-off for the truck, without any roll-back.
Bell trucks also use inclinometers that measure the load based on the angle of the truck to ensure more accurate readings. Another system benefiting from these sensors is Tip Safe, which uses pitch and roll sensors to prevent tip operations taking place at an unsafe angle.
Meanwhile, the future for the industry is fully autonomous vehicles, though implementation will likely come first on sites where labour makes up a large cost base – such as at large mines in Australia. Over time the technology will flow to more and more sites as the economic benefits become clear, believes Kyriacos. "We're testing it on the large trucks and it makes sense that it will start there first, but it will flow through the industry and it's going to be really exciting."
New rigid haulers win approval
Well-known as a producer of ADTs and other quarry and mining equipment, in 2018 Volvo Construction Equipment launched its range of rigid haulers, a first for the Swedish manufacturer. The range of four haulers – the R45D, R60D, R70D and R100 – is available in Africa.
"So far, we have made some good sales of the R60D and R100E in Africa. For example, our dealer recently delivered five R100E rigid haulers to a customer in Zambia," says John Bennett, Product Manager for Rigid Haulers, Volvo CE Region International. "All our other R60D and R100E haulers in the field have been performing well. The reliability has been very good and customers have been happy with the operating costs."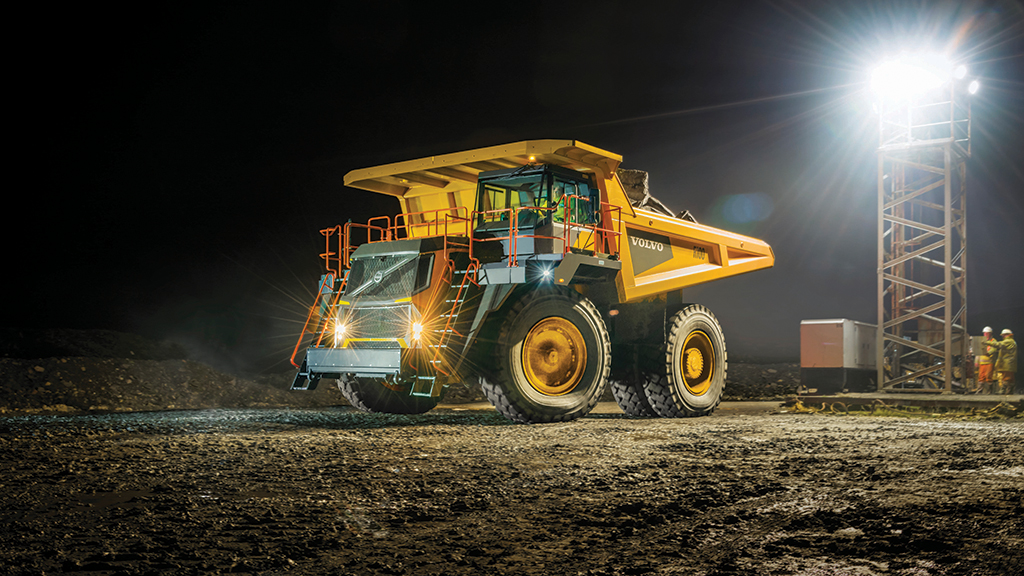 The flagship hauler is the R100E, with a 95-tonne payload. Its low fuel consumption is highlighted as a running cost advantage. This is partly due to the efficient engine and also to the Volvo Dynamic Shift Control, which automatically adapts transmission gearshift patterns according to varying conditions, for exceptionally low fuel consumption as well as a smooth, consistent ride, says Bennett.
"The feedback we have is that the machines are reliable and that the running costs are lower than the competition. Operators also like the R100E because it is simple to operate and has a comfortable and ergonomic cab, which is important when working long shifts."
The hauler also has high productivity, with a body designed for optimum load retention and minimal carry-back, while the best-in-class rimpull and the ability to navigate tough ground conditions and gradients ensure fast cycle times, says Bennett.
"Finally, the R100E has been designed to be extremely durable and be easy to maintain. All the components have been rigorously tested under extreme working conditions to achieve industry-leading longevity. The R100E has a low centre of gravity and the weight is distributed evenly across the machine, along with any impacts and structural stresses. Certain features, such as the neutral coast inhibitor, overspeed protection and transmission retainer, help prevent unnecessary wear and tear while lengthening service intervals, lowering maintenance costs and increasing uptime."
The E-Series rigid haulers have a host of new safety features, including structural stability and drivetrain features such as overspeed protection, neutral coast inhibitor and speed limit settings, as well as secondary brake system, uncontrolled movement inhibitor, service and service lockout switches – though many competitors have similar features, notes Bennett.
Looking to the market and Volvo CE's service support, Bennett notes that customers in Africa generally like to keep rigid haulers running for long life periods.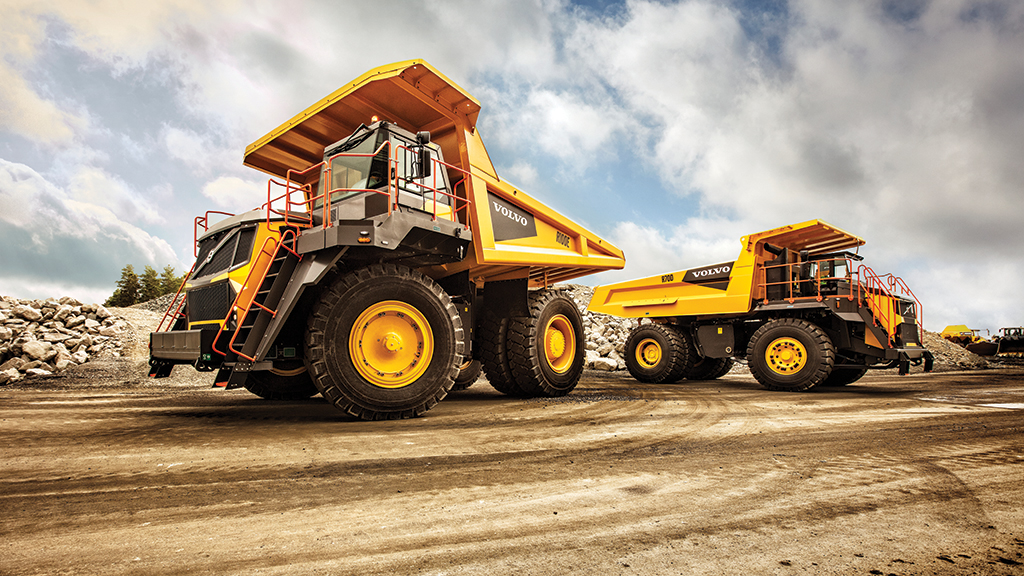 "When demand for commodities is strong, opportunities for new sales arise as mines increase output targets in short timescales. The five R100E haulers recently sold to a mine in Zambia is an example of this. Some new machine customers require minimum 20,000-hour support contracts from Volvo CE. Those with remote locations often require dealers to hold parts on-site with engineers to hand, and in some cases a dealer workshop is required on site to maximise output."
Looking to the role that OEMs can play in helping site managers optimise productivity, he points to Site Simulation, a useful consultancy tool that demonstrates fleet size and haul route organisation. "By modelling a customer's site, Volvo CE can calculate the optimum number and capacity of machines and driving routes to minimise traffic and distances travelled on-site, as well as unnecessary fuel consumption and emissions through idling."
Another important tool for improving efficiency on-site is operator training. Highly skilled operators complete tasks with greater speed, accuracy and awareness of safety, while consuming less fuel and minimising wear on their machine. An internal Volvo CE study of 80 operators ranging from beginner to professional found that training has a significant impact on tonne per hour and ton per litre performance, says Bennett. "The results showed a difference of up to 30% in fuel consumption, even among the professionals."
To establish the right type of training for a customer, Volvo CE carries out an initial assessment and then recommends options ranging from basic to advanced. The training may take place on real machines or on simulators, which may be located at dealer premises or installed in shipping containers at the customer's site, he explains.
"In general, Volvo CE will bundle packages of services in order to support customers in achieving their goals, which could be to boost productivity, reduce operational cost or lower CO2 emissions on-site. Whatever their goal, Volvo CE listens to customers' pain points and seeks to understand the factors impacting the performance of their operations before making recommendations for a convenient all-in-one solution to meet their targets," he concludes.