O.rentals acquired a Bauer MC96 crane based on demand from its regional market. The partnership was announced with a ceremonial key handover function between officials from both companies at O.rentals' workshop in Dubai Investment Park.
O.rentals and Bauer have partnered together after being in deliberations and conversations to collaborate for a decade. This was announced at a press conference and ceremony to commemorate this alliance. O.rentals has acquired one Bauer MC96 crane for their clients and customers in the Middle East region and beyond. The companies have collaborated previously with Bauer purchasing construction equipment from O.rentals' sister company Al Shirawi Enterprises.
O.rentals, the leasing arm of its sister company Al Shirawi Enterprises since 2006, has an extensive fleet of machines relevant to the construction, materials handling and warehousing industries. Electric and diesel forklifts, warehouse equipment, heavy-duty crawler cranes – 100t, 120t, 180t, 280t; and now the MC96 Bauer crane. O.rentals leasing equipment comes from industry leading suppliers such as STILL, Liebherr, Manitou and now Bauer.
"Over the last few years, we have seen a growing demand for ground improvement crane rentals over purchase. This not only reduces the upfront costs of a project, but our customers know that they can rely on us to provide excellent service in even the most remote sites. Along with this, our highly skilled service technicians are on-site to perform any maintenance and repairs, ensuring maximum uptime," says Thani Al Shirawi, CEO, O.rentals.
Bauer Equipment Gulf, a subsidiary of Bauer Maschinen GmbH, has been present in the Middle East since 2005 with a regional office in the UAE. The company's traditional core competency is specialist foundation engineering, and this has expanded to encompass three distinct business segments – construction, equipment and resources. Machinery and equipment made by Bauer is renowned for its performance, quality, and continuous innovation.
Hermann Schrattenthaler, Executive Director Middle East and Africa of Bauer Maschinen GmbH, says: "Over the years we have worked with more than 110 customers in the region and have sold over 500 rigs and more than 150 other products. We operate in other GCC countries as well such as Kuwait, Qatar, Saudi Arabia, Bahrain and Oman besides the United Arab Emirates. Bauer and its equipment have been involved in nearly all major projects in the region like the Mall of Emirates, Burj Khalifa and The Palm. The partnership with Al Shirawi Group's O.rentals will expand our crane's global presence beyond its current capacity at the GCC level as well as around the world."
The MC96
The Bauer MC 96 is a heavy duty-cycle crane with innovative assistants for dynamic soil compaction in the desert. To improve the compactness of the ground and increase load capacity, several areas must be depth-compacted using the dynamic soil compaction method. The MC 96 duty-cycle crane makes a significant contribution to the productivity for the soil improvement activities using the BDC (Bauer dynamic compaction) system.
The new, innovative Bauer BDC assistance systems includes an unwind assistant which facilitates automatic adjustment of the hoist's spooling behavior to different, variable factors such as soil class, degree of compaction, impact angle, attachments, and water content of the soil as well as the new Bauer active rope tightening system (ARTS). The combination of the new assistance systems ensures better productivity of the duty-cycle crane in the BDC process and contributes to a reduction in rope wear, resulting in a noticeable decrease in operating costs.
Overall, the assistance systems prove that even robust and generally simple methods have the potential for improvement, something Bauer is working on continuously for the benefit of its customers. O.rentals is confident that with the brand assurance of its crane suppliers, it can couple its new innovative remote fleet management app solution to capture even remote project details confidently, helping to plan maintenance and follow a sustainable project action scheme.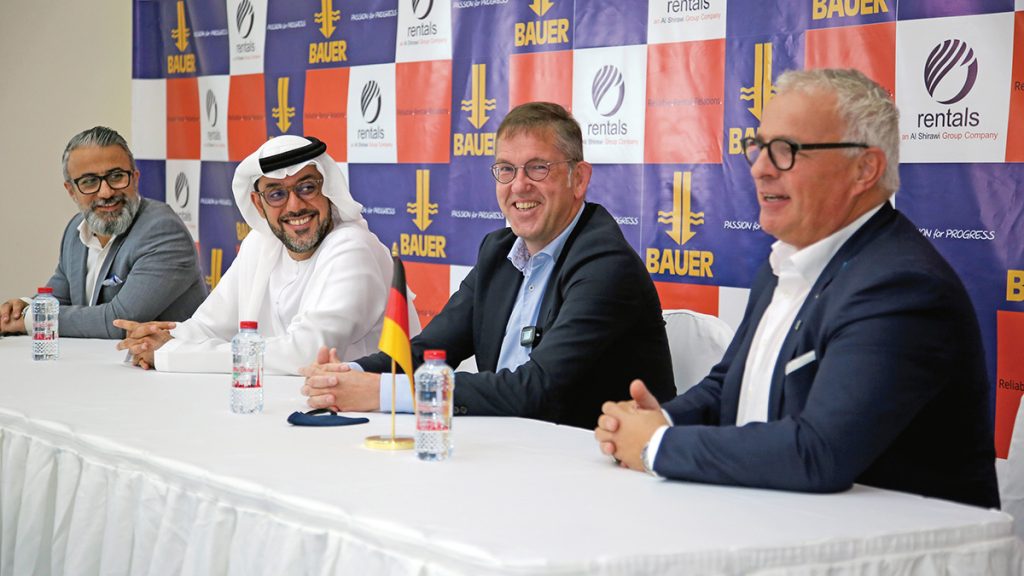 Bauer cranes have major components that are manufactured by brands that have been in the region for decades (Caterpillar engine, Rexroth pumps, etc.).
O.rentals is in the process of creating an app to provide their customers with access to information at their fingertips. "Our app will streamline the rental process and give access to remote fleet monitoring. In the future, we could guide our technicians by visual means sitting 8,000 miles away from a project site in South America, for example, by adapting to the benefits of 5G technology," concludes Al Shirawi.