Auger Torque began its Middle East operations in 2016 with a sole focus on the UAE market. Since then, the company has a presence in Kuwait, Qatar, Oman, Bahrain, and Saudi Arabia. Last year's sales saw the company record 44% growth as compared to the same period in 2021. This year Auger Torque is already witnessing strong demand from the regional oil and gas, infrastructure, and solar industries.
Auger Torque manufactures attachments and distributes them globally in more than 96 countries. In the Middle East region, besides having dealers in the UAE, Kuwait, Qatar, Oman and Saudi Arabia, the company supplies its products through JAFZA into Egypt, Ethiopia, Kenya, and South Africa.
Industries that Auger Torque supplies to are mainly civil, infrastructure, solar, marine, tunnelling, mining, agriculture, and landscaping. This year has begun with a number of active projects in Saudi Arabia (NEOM Project), Kuwait (oil and gas) and in Qatar (post FIFA), where there's an increase in demand in the solar and infrastructure industries.
Regional challenges
Auger Torque is gradually seeing an improved understanding of the benefits of working with attachments in the Middle East region. "Change is definitely happening albeit at a slow pace if you compare it to the Western and Asian markets," says Rohan Saldanha, Head of International Business Development- META/LATAM/APAC at Auger Torque Europe Limited. "It is still a conversion market, where customer awareness is still limited," he opines. "In a number of cases, access to information/modern technology is limited and where customers are focused on their job at hand, in such situations there is no band width to explore or dabble in newer technologies."
Over the last seven years, the company has experienced that the general mentality is cost conservation and pricing rather than focussing on the big picture and linking the dots to productivity improvement. However, this is slowly changing. "We see that when our applications are demonstrated live to customers, they see the wow factor," continues Saldanha. The company currently has more than 300 customers since 2020 all over the Middle East, Turkey, and Africa (META) region.
Besides customer education, Auger Torque has also seen competition sprout up regionally, however due to the wide array of products in their portfolio other attachment manufacturers don't eat much into market share and most of the competition is limited to local dealers with no direct presence or limited presence in the market. "For example, in this region, our core product is for drilling and besides us there are several competitors both local, regional and a limited number of international players. The equipment that our competition sells is inexpensive copycat units with mediocre performance parameters and are sold by their dealers who have the sole focus of capturing a quick sale. This leaves customers with a poor overall experience. Hence, customers are looking for reputed and reliable suppliers with a local presence and after-market support," continues Saldanha.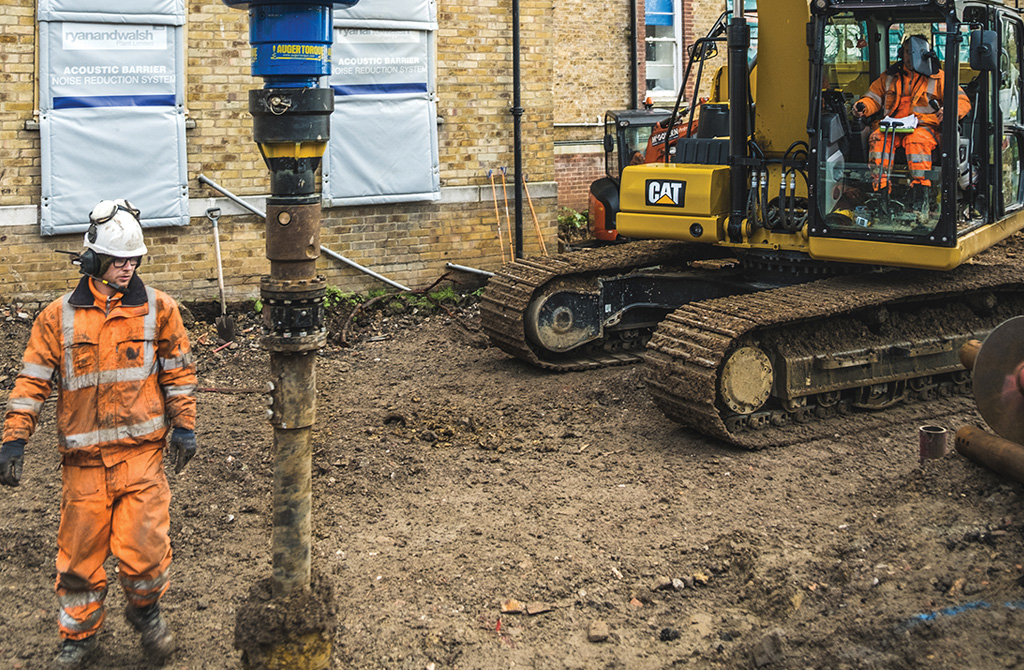 "What differentiates us from the competition is our principle of being locally accessible as we maintain stock on the ground. We adapt our portfolio to local market conditions and assist clients when they have a problem. Building trust with both our dealers and customers and being transparent is paramount in establishing a fruitful working relationship for long term business sustainability," he adds.
Auger Torque/Kinshofer have production facilities in more than 20 countries and each factory produces distinct components for each of the products from their portfolio. Production is also done intra company to help enhance cost synergies. For the META region, the company uses its local experience on its core drilling product and manufactures it in the UAE. "This helps us adapt the product to what the customers want and develop products that are suited for the local ground conditions," adds Saldanha. More complex products like hydraulic shears, rotators, railway attachments, due to the complexity factor, are produced in their overseas production facilities.
When an order is received in the region, since most attachments are locally maintained at JAFZA, an entry is created on sales force with an aim to have it delivered to the customer within the UAE in three days and in the GCC in 10 days. Non-standard products usually need eight to 12 weeks for production and shipping. "If we see potential for a product or say if based on a recurring requirement for a particular project which involves a number of attachments, the information is relayed to supply chain to account for the demand when it comes to fruition," he explains. In this case, the products are produced in component formats and kept in stock. When the order comes in, it is categorised under just-in-time production where the partial components are pulled together to assemble the finished product. This reduces lead time and also the risk for the dealer from holding stock for a product which may be high in capital expenditure (CapEx). It also prevents obsolescence in case a sale does not come through.
Besides the civil, infrastructure, marine, EPC, solar, agricultural, and landscaping industries, Auger Torque also provides attachments for the recycling sector. "We provide orange peel and selector grabs and steel shears to cut and recycle steel," says Saldanha. Drilling attachments are also available from Auger Torque for pre-drilling sheet piles. These are utilized to provide structural support for things like retaining walls. It additionally provides vibro hammers to vibrate the sheet piles in (system solutions). For railways, the company provides attachments that can be fitted on the excavators to lay sleepers and tampers to settle and accompany the ballast stones.
Soon, Auger Torque wants to increase and build on its brand awareness amongst customers in the Middle East. "We are currently working to increase our market reach via our dealer network and want to bring new attachments to service the growing demand in railway, recycling and the renewable energy segment," he concludes.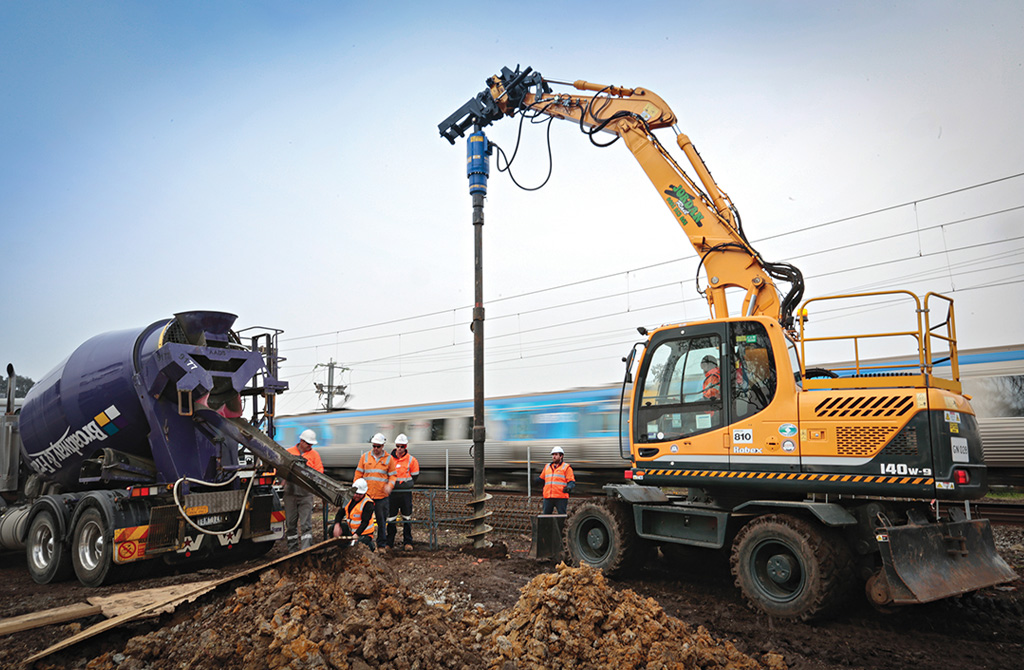 ---
Current projects:
NEOM Green solutions – Saudi Arabia
Streelight Installations – Oman
Dewatering Projects – GCC wide
Tunnel Rehabilitations – Various regions
Underwater River Dredging Project – India
Coal Mining – India
Highway Guard Rail Installations – Qatar
Solar Post – Helical Pile Installations – UAE
---
A tough call – Muscat Wastewater Treatment Facility
There was a need for drilling 600mm underground in 12m dense limestone. The problem was that the ground report did not indicate the strata. The requirement was to drill 52 holes at a depth of 12m. The client informed Auger Torque that the machine in use would be a 20-tonne excavator, but on the site the machine was a PC 400. There was no access to hydraulic technicians. This was the first challenge. The earth drill that was shipped was made for a 20 T excavator and the auxiliary line pedal valve was non-functional. So, trying to assist a customer who purchased equipment without planning or a functional carrier machine while being overseas in the UK was quite challenging.
Once on-site, Auger Torque assessed the shortfalls, connected with engineering and logistics, air freighted new hard rock pilot bits in 48 hours, connected with a local hydraulic technician and using the pressure as a gauge, modulated the flow of the excavator and brought it to a level that the earth drill could handle. Meanwhile the client connected the company with a used equipment supplier and got the auxiliary line fixed. By the third day, Auger Torque's team was in Muscat and began drilling. The first five meters were reached in 20 minutes, the next two meters were tough as there was hard limestone which took an hour to drill through. Overall, each hole was compiled in an hour and 45 minutes to two hours. Due to the proximity of water treatment tanks no rotary percussive method was allowed to be deployed due to the danger of micro fractures in the concrete tanks. Whilst this was a challenging situation, Auger Torque managed to work its way through the issue with the resources available locally while drawing from their tech team in the UK, Australia and the USA resulting in a successful project.