Euro Auctions is gearing up for its upcoming December 13th event. Their last auction held in September this year was a big success; total sales were $6.717 million. They hope to do even better next month.
We've all heard that Ritchie Brothers have bought over Euro Auctions for an amazing settlement amount. Undoubtedly, the resultant company is quite the force to be reckoned within the used equipment auctioning world. "Whilst the current news is that Ritchie Brothers have acquired Euro Auctions, the transaction is not expected to be finalised until sometime in Q1 of 2022. When the acquisition is complete the intention is for Euro Auctions to continue to trade, under the Euro Auctions brand, with no change in operations," says Johnnie Keys, General Manager, Euro Auctions.
In terms of market reach, Euro Auctions is well established in the markets (USA, UK, Australia, Middle East) it operates in but now will be able to provide additional service offerings such as inventory management services, data solutions, financing, warranty, and insurance. Euro Auctions' markets to over 100 countries globally. "We are sure that both businesses will benefit from the merger in terms of market share and overall revenue streams. As both businesses have their set of loyal customers," continues Keys.
Euro Auctions have an upcoming auction in Dubai on December 13th. Keys says: "There is always great interest at all Dubai sales. In 2020, we sold over 1,000 machines at our December auction but we are seeing a lower volume of equipment available in the market in 2021 due to supply chain issues being experienced by OEM manufacturers." This in turn is driving up the market value of used equipment and making the new/unused equipment on sale highly sought after. Keys feels it is still too early to predict the exact number of lots for the December sale. Having said that, the Euro Auctions team of sales managers and territory managers are accomplished at sourcing second hand equipment, and the December sale should be no exception.
The pre-Covid numbers of registered onsite floor/in person bidders were always more than 200. "We are now approaching those numbers again as we all return to some sort of normality. Hopefully we will have a record attendance at our December auction," he continues.
Currently buyers are looking for used, low hour equipment of any make and model, as new stock is scarce, and OEMs are struggling with supply. This time the Dubai auction will feature:
• Komatsu PC350LC-8MO Excavators
• Komatsu PC210LC-10 Excavators
• CAT323D3 Excavators
• Hyundai R210 Excavators
• Ammann AV110X Double Drum Rollers
• IVECO Trakker 380 6×4
• Apache HH30Z 3 Ton Forklifts
Euro Auctions' Dubai sale last year (December 2020) had 599 registered bidder accounts, of which 33% were first time bidders. That's an 100% increase over the previous auction sale. Since then, the number of new customers has increased at every auction sale.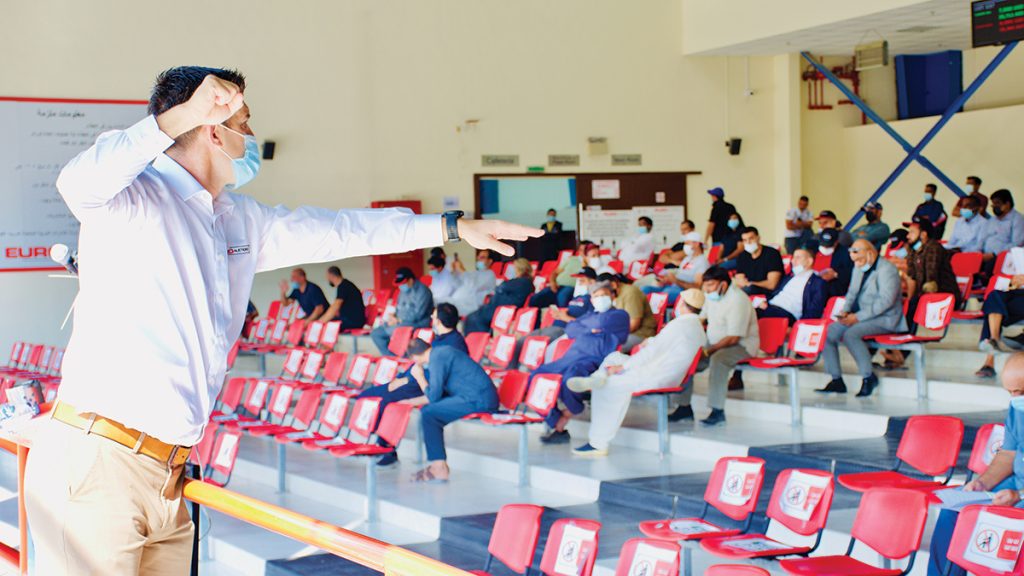 Statistics from last year's sale show that buyers registering for the sale were from 74 countries and actual buyers that successfully purchased machines were from 24 countries. Top countries by hammer total, in order, were UAE, United Kingdom, Oman, Lebanon, Ivory Coast, Germany, The Netherlands, Belgium, and Taiwan. Buyers by world region were: Middle East 73%, Europe 11%, Africa 6%, South America 6%, GB & Northern Ireland 4% Asia 1.5%, North America 0.25%.
Online or in person?
Euro Auctions has its own robust internet sales platform, where buyers can bid online at all auctions. To bid online the user must create an online account and register for the auctions of interest. Registering gives the user a bidding number. Then the user can watch and bid live from anywhere. In addition, the 'Daily Marketplace' is a new section on the site where equipment is online 24/7 and prospective buyers can 'Buy Now' at competitive prices or negotiate with 'Make an Offer' options. In all cases, bidders can watch and follow their bids live in real time as the auction progresses.
With online bidding still popular following COVID-19, 37% of all sales (from their last sale held on September 2021) were transacted via the internet. Of this 37%, 3% of the sales came through their 'timed auction' category which culminates on the last day of the sale. 'Pre-bidding' is part of the overall Euro Auctions sales process, however buyers still very much like to visit the site, examine machinery and equipment for sale and then bid in 'real time' on the day. That said, Euro Auctions is finding that at all sales globally, bidders and buyers from the home country (and locality) are bidding more fiercely than bidders from outside the country or region where the sale is hosted. This is true of this recent Dubai sale, with local buyers being the most successful.
"Our yard is always open for in person inspection of equipment and our team is on site to assist any customer with equipment inspections. We see the majority of inspection activity on site the week before the auction," adds Keys. To assist buyers, the quality of videos and photos uploaded online for all equipment is of vital importance. Buyers can also request a detailed inspection report. "Buyers typically prefer to base their judgement on the videos and photos of the equipment or through in person inspection rather than more subjective inspection reports," informs Keys.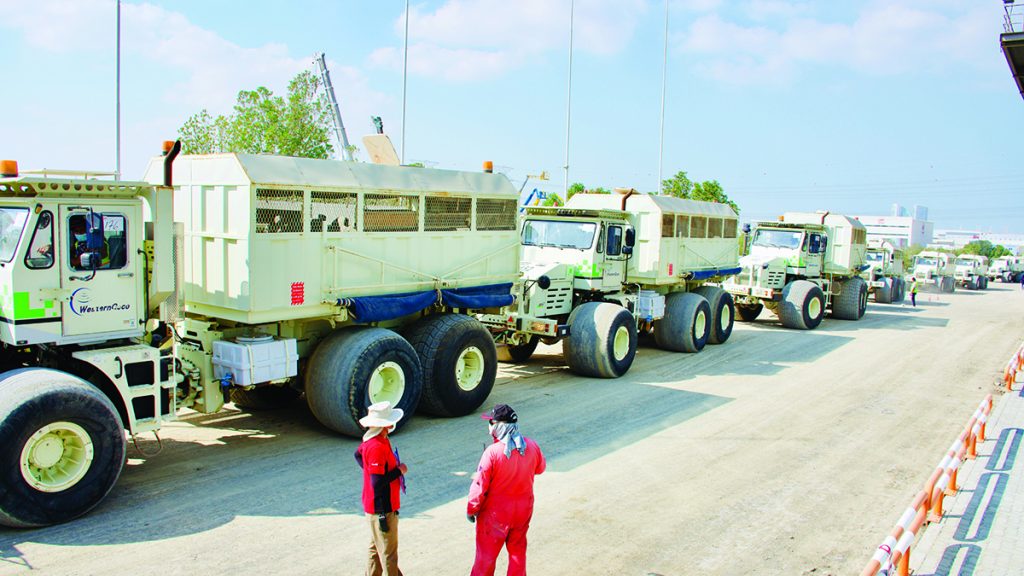 Formalities after the auction
After the auction, all equipment documents are immediately available, and the equipment can be collected on the same day after the payment has been made. For any items clearly marked in the sale as "GCC DUTIES NOT PAID" customs duty will only be payable if the unit is being imported into the UAE mainland or other GCC countries on entry. Euro Auctions in Dubai is based in a Free Zone. "We provide all documentation required for export of equipment and can assist customers with customs clearance and freight forwarding. Just tell us where you want your machine delivered to and we can organise everything on the customer's behalf," says Keys. There's no margin for Euro Auctions on this service as the important thing is looking after the customer.
At their last sale in Dubai (held in September), 561 lots went under the hammer, with an average value of $11,973 per item sold, and a hammer total of $6.717 million. On the day of the sale, buyers from 64 countries registered to bid, with bidders from 21 countries buying equipment. Eighteen of those transacted their purchases online. The company is awaiting its December sale to get to know more customers and provide even better service and sales support. Customer feedback has always held immense importance at Euro Auctions, one of the main reasons for the company's reputation in the market today, be it from the perspective of its customers or its peers.