Hitachi Construction Machinery (HCM) will launch its ZX-7G excavator series in early 2024 in the Middle East. A successor to the ZX-5G series, the ZX-7G has features that outshine its predecessors. Quality, safety, responsiveness, productivity and operational cost are at the top of the agenda.
Hitachi Construction Machinery Middle East Corporation FZE recently introduced its new generation excavator model range ZX-7G in the Middle East and East Africa. With a region-wide upswing in the construction industry in general, Hitachi is "enjoying being a healthy part of it," says Piet van Bakergem, GM, Marketing, Hitachi Construction Machinery Middle East Corporation FZE.
Being a natural progression from the previous ZX-5G model, the 7G builds on the standards set by the 5G (since 2013) of quality, robustness, and low fuel consumption. Excavators in the new Hitachi ZX-7G series include the ZX350-7G, ZX490-7G, ZX690-7G, and ZX890-7G.
The ZX-7G series offers a considerable increase in operational productivity, a decrease in lifecycle costs, and an increase in safety in day-to-day operations. The upgraded hydraulic system, high efficiency engine with ECO guidance and gauge functions comes without exhaust gas recirculation and this is coupled with low fuel consumption. An increased bucket selection comes standard on the new ZX-7G. Additionally, buyers can add Hitachi's ConSite oil monitoring sensor for an extra cost. The new ROPS-Compliant cab, decreased cab vibration, and reduced interior noise are among the benefits of the series that provide convenience and comfort.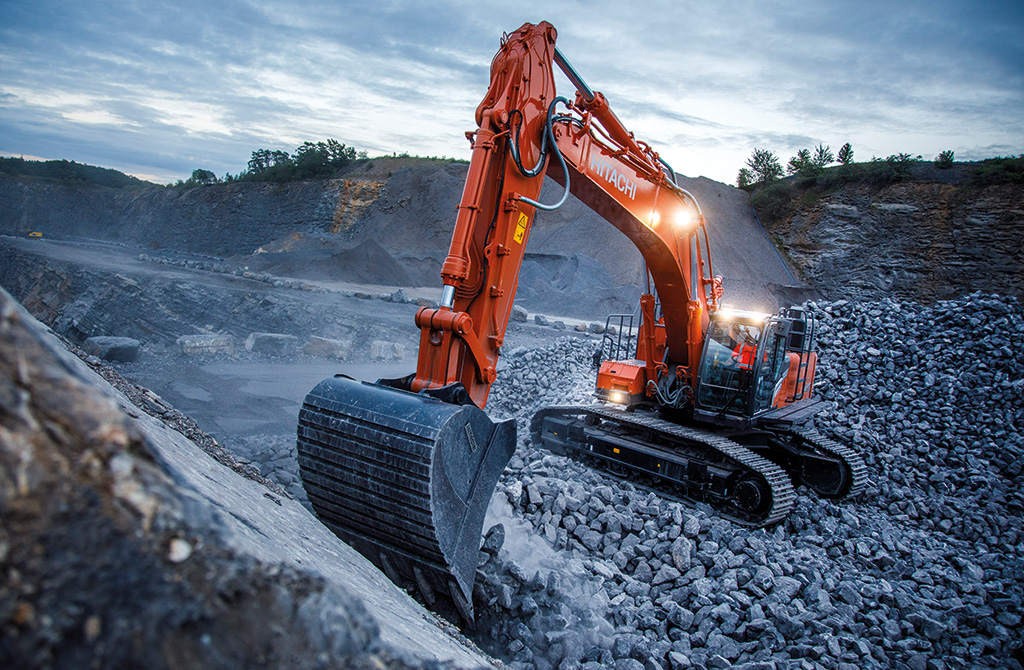 Cabin safety features on the new ZX-7G model
The excavator comes with a brand new cabin design. It is ISO standard compliant to tip-over protective structures (TOPS) and roll-over protective structures (ROPS). The cabin has an aerial angle with a 270-degree birds-eye-view that comes with guidelines, it also comes with new, safer, multiple handrails. This new cabin has stronger and brighter LED lights. There is also a timer to keep the site lit up even after the engine has been switched off for a duration of up to a minute.
It also has a new overhead protection guard and front guard level II with opening and closing functions. It comes with a two-way battery disconnection switch. In terms of safety, the driver is reminded of wearing his/her seat belt through an interactive display message. The dashboard has a spacious, extended, dimensional operation station with a one-touch console height adjustment feature. The seat is adjustable using a single lever synchronised movement with an adjustment of the console as well. The screen is 8-inch hi-resolution and can be customized.
The engine has an Eco guidance and Eco gauge function, 15+ preset attachments, adjustable flow and pressure settings and a new operation switch station. The cabin has a reduced pilot lever control force by 15%, and an enhanced cab mount reducing vibration and noise by 27%. Reinforced glass thickness reduces cab noise by 9%. There is a bluetooth integrated radio option, too. Outside wider side steps make getting off or climbing into the cabin easier. And customers can choose to enhance their excavator by adding Hitachi's 270-degree bird's eye-view camera system.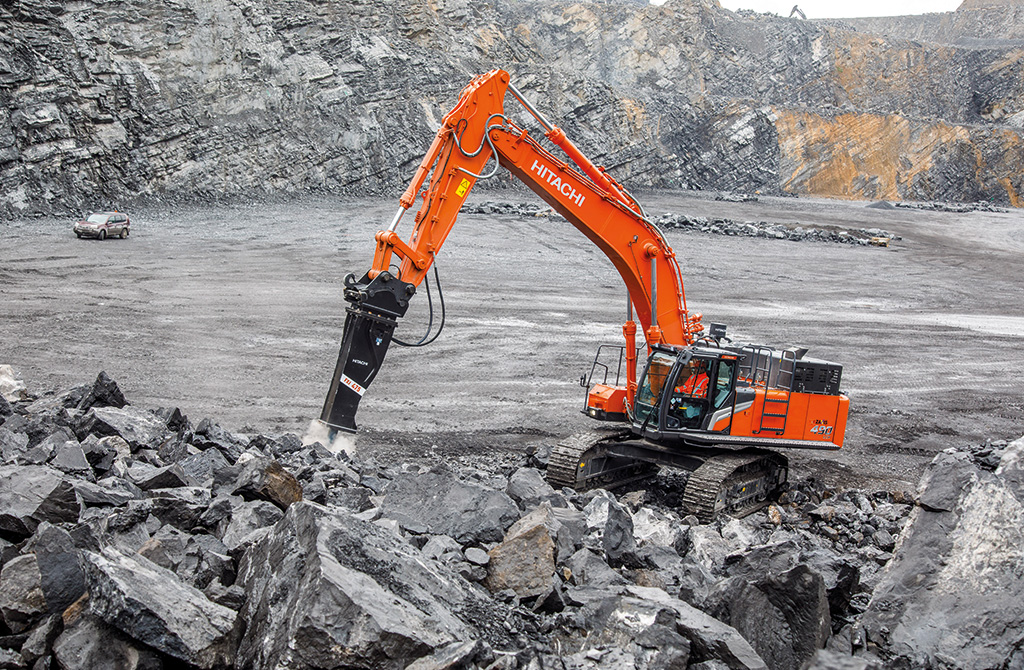 High efficiency engine
The ZX-7G's engine comes with a precise and electrically controlled fuel system. It has no exhaust gas recirculation (EGR). It comes with upgraded fuel lines with diamond like carbon (DLC) coated injectors and fuel pumps.
Low Fuel consumption
The ZX-7G has a proven reduction in the use of fuel, its multi operational / working modes enhance this function with a 16% fuel reduction for ECO Mode, 17% fuel reduction for power (PWR) Mode. There is also an additional option of Super ECO Plus Mode.
Wider range bucket and attachment provided
This excavator has various ranges of bucket types provided such as GP, HD, RP and for mining applications. It has an increased bucket capacity range with up to 40% for special applications. It has quick coupler options, a wide range of breaker selections, drum cutter attachments and a provision of supporting machine guidance systems for precise operations as per drawing designs.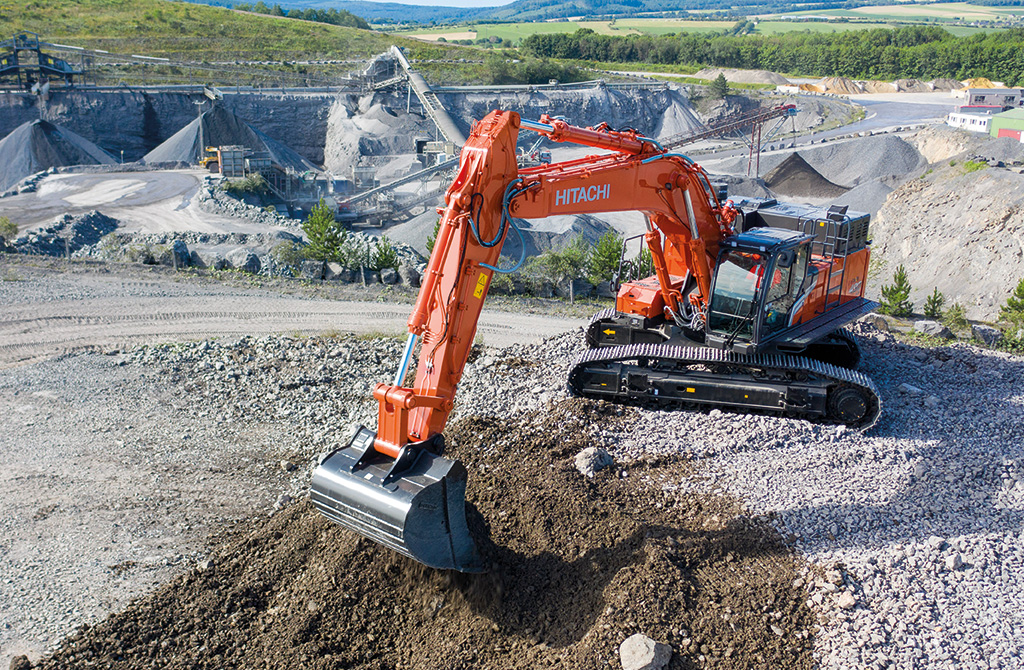 Bakergem says: "Customers' savings have been recorded in double digits with the use of the ZX-7G making it a very attractive investment." The company's regional market share relates directly to their ongoing projects in the countries in the Middle East. "It's not always the biggest markets that are giving us the biggest revenues," continues Bakergem.
Parts and product support are the backbone of HCM. "We work with our dealers and train them perfectly to serve customers," continues Bakergem. In terms of orders received and on time delivery, Hitachi's dealer network prepares a forecast based on which their supply chain follows up with while simultaneously keeping a track of current available stock; this process ensures customers are being served on time and efficiently.