With more online participation from the Middle East, Africa and India, Ritchie Bros. has a strong team to support rental businesses in working out the optimal disposition strategy.
Equipment rental companies have long been a large and important group of clients for Ritchie Bros., both globally and in the Middle East region, with a growing industry trend towards buying, managing, and selling heavy equipment through online channels.
Ritchie Bros was founded over 60 years ago as an auction company, but today it offers much more. Over the recent years, they've developed other services and solutions that helps manage equipment. For example with Ritchie Bros. Asset Solutions, fleet owners have access to a suite of powerful solutions, including an Inventory Management System with real-time integration of the users data, accurate asset pricing tools and easy disposition workflows. Ritchie Bros. also added new companies to its portfolio including Rouse Services and SmartEquip. Rouse Services is a leading construction equipment intelligence company that collects $70 billion worth of rental fleet globally and offers rental companies accurate and actionable insights on their fleets. SmartEquip changed the game for spare part procurement and optimizing up-time. Their innovative technology connects equipment owners with manufacturers and makes spare part procurement faster and much more efficient.
Increasing digitalization in the industry
Digitalization of the industry has accelerated over the last two years and continues to do so. The online auctions and marketplaces have seen massive growth over the last years, with more online participation from the Middle East, Africa and India. Ritchie Bros. has a strong team to support rental businesses in working out the optimal disposition strategy. However, the starting point of the company's conversations with customers is broader than auctions alone.
Fleet owners often like selling in Ritchie Bros. auctions because they don't have to organize the sale of equipment themselves including setting the right price, creating the listings, running advertising, handling buyer inquiries, negotiating a price, and handling the paperwork. It can be a daunting and time-consuming activity to sell privately. With auctions, you remove that and can focus on your core activity. An unreserved auction gives full certainty that the equipment will be sold on a particular day. However, auctions are just one of the many selling options out there, and they're not always the best solution for each situation.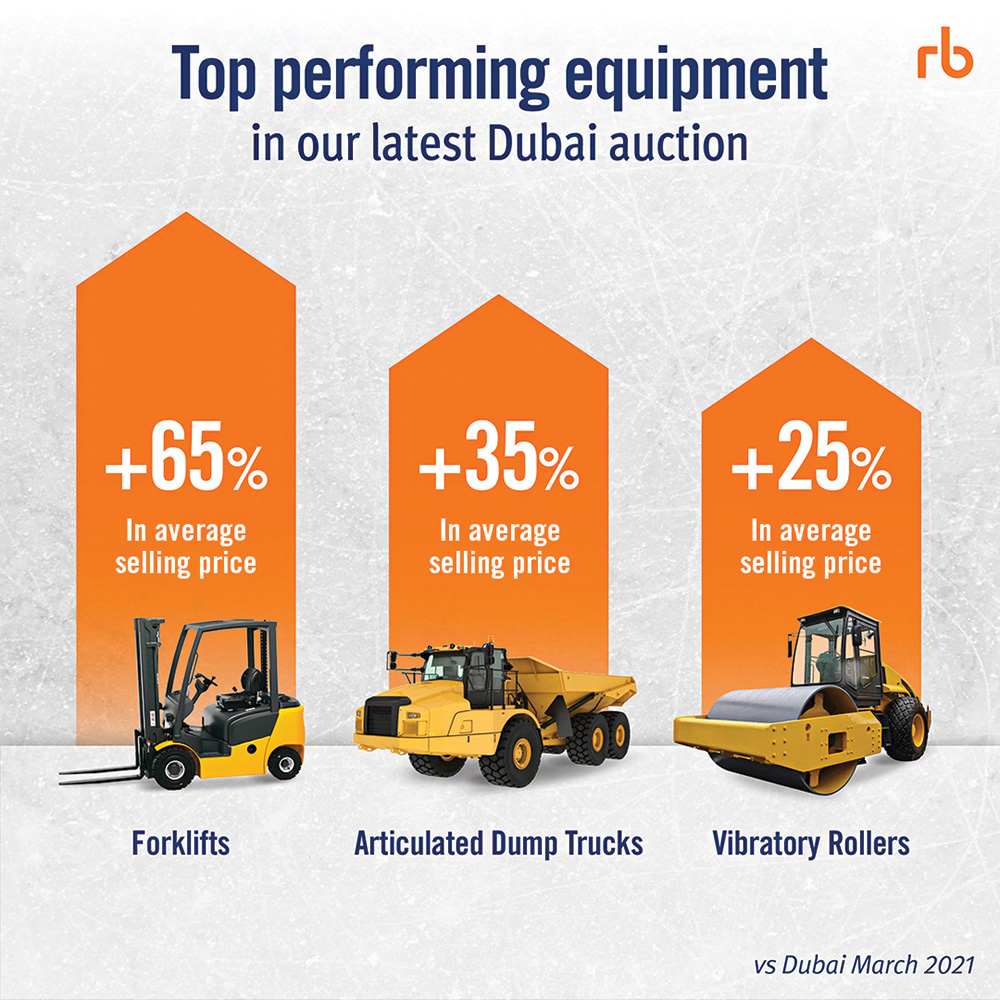 Strong demand for used equipment amid global supply chain disruptions
When productivity in the construction industry is high and heavy equipment supply chains are restrained, both rental demand and used equipment demand are strong. There are multiple indicators that the team observes, including higher bidder attendance at Ritchie Bros. auctions, more bids being placed and of course the price performance. Typical rental machines sold at Ritchie Bros. are seeing up to 30% price increases, sometimes more, due to intensified bidding activity. Those who are looking to sell benefit from these favorable market conditions. However, Ritchie Bros. also sees more buying activity from the rental business sector. Even rental businesses that generally might not consider buying used machinery are now looking through the equipment inventories for low hour, ready-for-work machines.
Here are some of the top categories that saw significant growth in average selling price in March 2022 compared to the previous year at Ritchie Bros. auction in Dubai:
Forklifts: +65%
Articulated Dump Trucks: +35%
Vibratory Rollers: +25%
The next Ritchie Bros. online Timed Auction is scheduled for June 21 and 22, with bidding starting on June 14th. Rental businesses who want to learn more about the buying or selling options with Ritchie Bros. should contact the local representatives in Dubai.