UD Trucks has registered impressive growth for two consecutive years in the Middle East, East, and North Africa (MEENA) region, with sales of heavy-duty trucks up by 35% in Qatar and 32% in Saudi Arabia. The Japanese truck manufacturer is ready for the surge in market demand. Plant & Equipment's Munawar Shariff speaks to Mourad Hedna, President UD Trucks MEENA, about the commercially rewarding past two years and the company's consistent focus on sustainable business operations.
The Middle Eastern truck market is undergoing a transformation due to several factors, including a growing emphasis on sustainability, the adoption of new regulations by regional governments, and a rising need for digital solutions. Specifically, there is a greater demand for trucks that provide better fuel efficiency, uptime, and lower total cost of ownership. However, this shift is also being met with challenges such as a shortage of skilled drivers and increased market demand.
In response to sustainability concerns, many companies are seeking more environmentally friendly trucks that can reduce their carbon footprint. New government-enforced regulations to enforce emissions control and improve road safety are being implemented across the region.
Fleet managers are seeking to optimise operations and as always minimise cost so telematics and other digital solutions are on top of their list of requirements. Economies everywhere are enduring rapidly expanding constraints from logistics, raw materials, fuel costs, and other factors. This is leading businesses to explore more cost-efficient ways to scale their operations without parting with quality.
UD Trucks has a variety of truck options available for a range of budgets with competitive specifications, such as Escot Automated transmission, higher tonnage amongst other choices which are comparable to those of European trucks which have been the primary preference for a number of industries in the Middle East region.
The brand has also successfully expanded into various segments, including construction, logistics, and waste management, as well as entering other critical sectors in the region such as irrigation vehicles in Kuwait, water tankers, vacuum trucks, and jet cleaners in Iraq, and a leading waste management project in Abu Dhabi. This success is attributed to the company's focus on innovation, customer satisfaction, and understanding of the local market's needs and trends.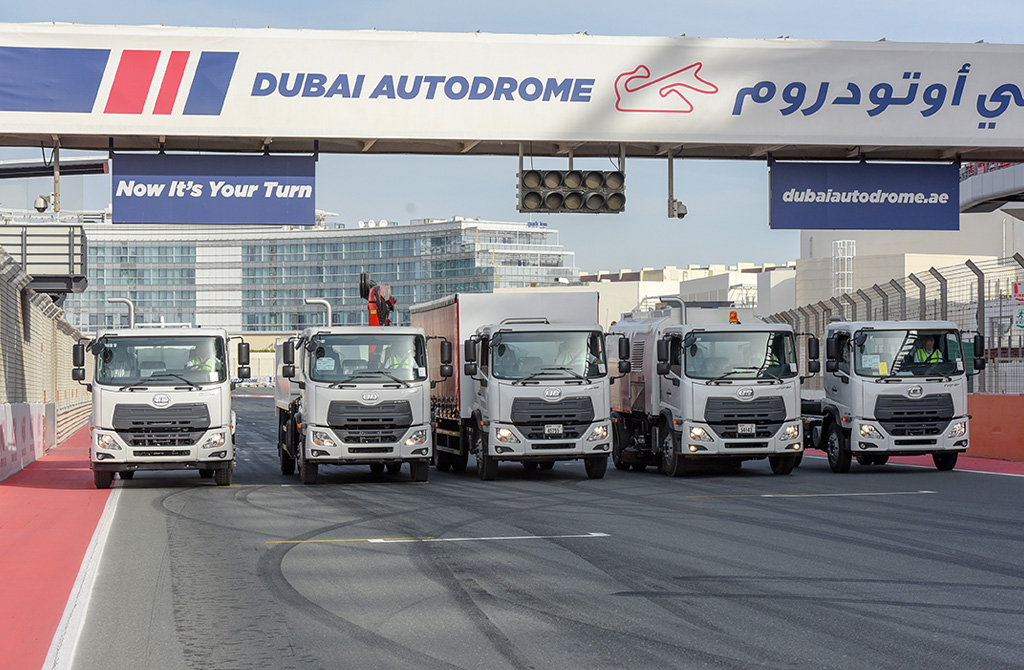 Heavy-duty and waste management trucks
Rapid urbanization, driven by increasing populations, has resulted in a significant increase in waste production, making waste management a critical issue that requires collective effort from various functions, including government agencies and businesses.
UD Trucks in the last two years has made a dedicated focus on expanding operations in emerging markets where there is a growing demand for heavy-duty trucks and specialized trucks for waste management and construction. This has led to a successful year (2022) in terms of sales volumes.
Furthermore, the company has proven its reliability in the waste management segment, resulting in repeated loyal customers.
UD Trucks is providing specialized trucks and services to the waste management and construction sectors in the UAE. The company has expanded its product offerings to meet the unique needs of these sectors, providing robust and modern trucks that are designed to handle heavy loads, such as the Quester 40T with 40' tyres, harsh conditions, and challenging terrains.
UD Trucks is also offering service contracts and telematics that enable its customers to improve the uptime of their fleets and reduce operating costs. Through its Smart Logistics initiative, the brand aims to provide sustainable and efficient solutions to its customers, ensuring that its operations are aligned with the UAE's vision for a greener and more sustainable future.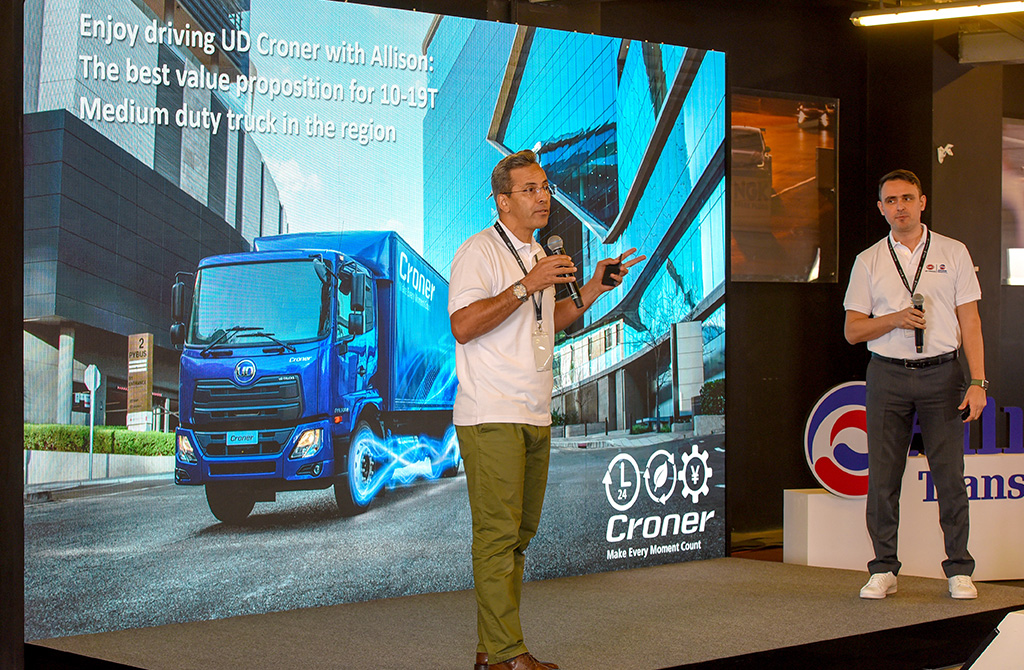 Saudi Arabia
Saudi Arabia is UD Trucks' largest market in the region, hence the company places immense value on it. "We have established strong partnerships with various stakeholders involved in the NEOM project, an ambitious and futuristic smart city initiative," says Mourad Hedna, President, UD Trucks MEENA.
These partners rely on UD Trucks to provide sustainable value, profitability, and unparalleled uptime for their work on the project. "Our commitment to delivering on our promises has earned us an exceptional reputation for reliability and excellence, cementing our position as a trusted partner to businesses throughout the Middle East," adds Hedna. Furthermore, Saudi Arabia's many mega projects have created an increased demand for heavy and light construction and transportation, and UD Trucks are highly active in these sectors, as well as in logistics and waste management in the country.
Africa
UD Trucks has been present in Africa for several years, offering solutions that cater to the specific needs of the local market. The company is involved in the construction industry, providing durable and reliable trucks for transporting heavy materials, equipment, and machinery. UD Trucks has delivered a considerable number of trucks in Ethiopia, primarily intended for general cargo use. Moreover, the company is also involved in the transportation of goods and supplies for the mining industry in various African countries, especially Sudan. UD Trucks is committed to expanding its operations in Africa, investing in a network of workshops across the region to meet the needs of its customers.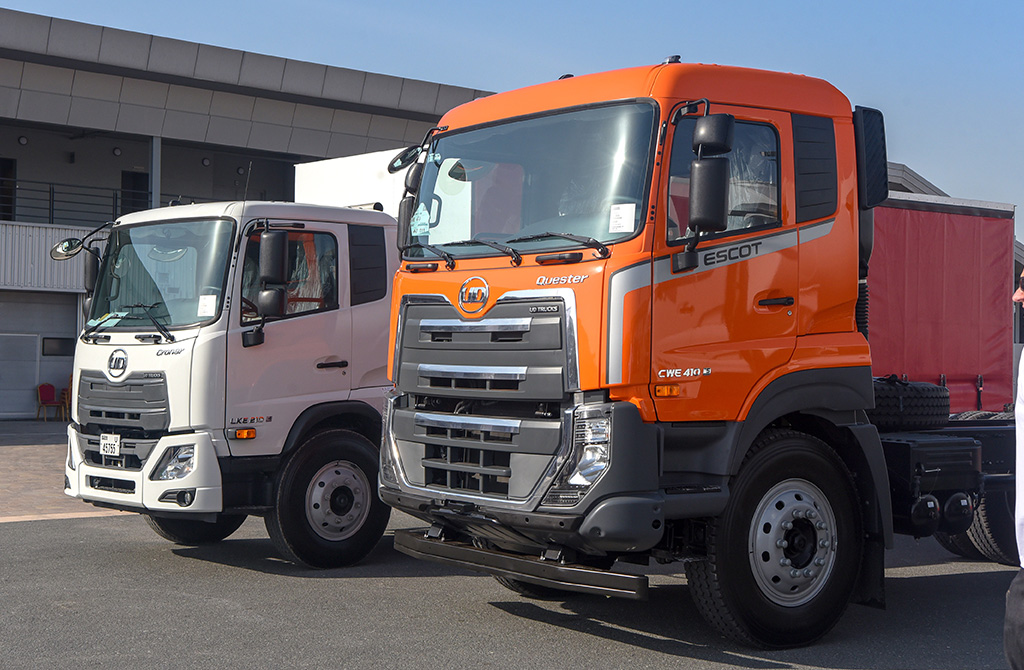 Japanese Sustainability Leader by 2025
UD Trucks' plan to become the Japanese Sustainability Leader by 2025 is based on the Japanese manufacturer's commitment to sustainability and the environment. "We have set ambitious targets for reducing our environmental impact and are working on reducing waste and promoting circularity in our operations," explains Hedna. "Additionally, we are focused on promoting social sustainability by supporting diversity and inclusion, investing in employee development, and partnering with local communities to support their needs and give back to the society and at the same time give our employees a higher sense of achievement and purpose."
UD Trucks' Better Life Strategy is a corporate objective that aims to integrate sustainability into the company's operations and those of its customers. The strategy is based on four main pillars: Better Logistics, Better Business, Better Environment, and Better Society.
Under the Better Logistics pillar, UD Trucks seeks to develop and offer products and services that improve logistics operations and promote sustainable transportation. This includes the development of electric and autonomous trucks, as well as the integration of telematics solutions to optimize fleet management.
The Better Business pillar focuses on developing long-term partnerships with customers and business partners to promote sustainable business practices. UD Trucks offers service contracts to ensure high uptime and provides training and support to help customers operate their trucks in a more sustainable and efficient manner.
The Better Environment pillar aims to reduce the company's environmental effect by developing cleaner and more efficient engines and incorporating renewable energy sources into its operations. UD Trucks also supports various environmental initiatives around the world.
Lastly, the Better Society pillar is centred around promoting social responsibility and contributing to the well-being of communities. UD Trucks is committed to promoting diversity and inclusion in its workforce, as well as supporting various social initiatives through its corporate social responsibility programs.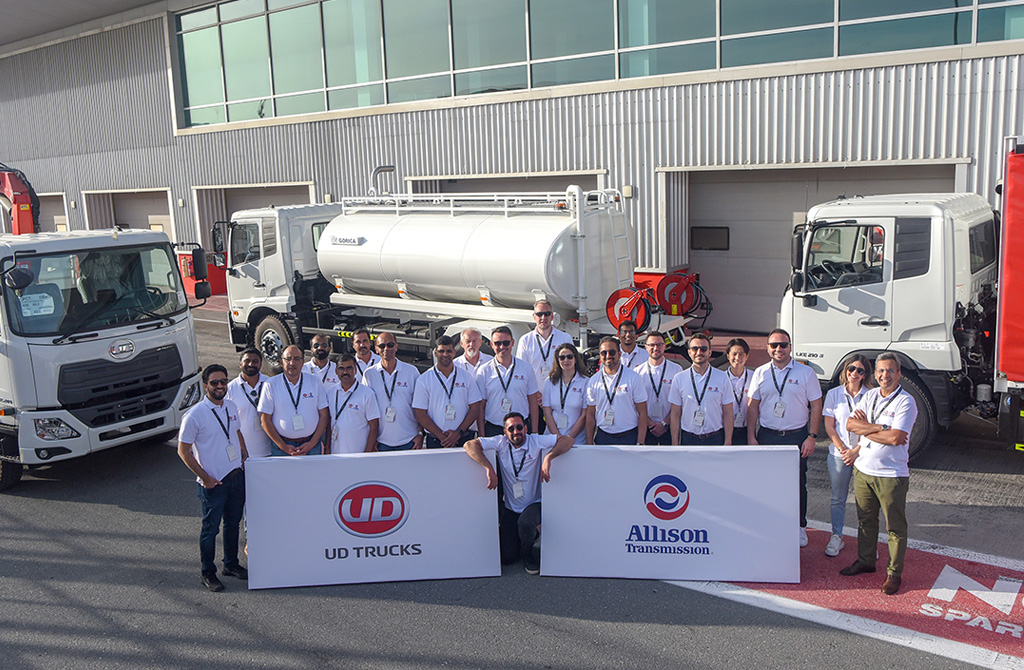 UD Trucks partners with Allison Transmission to enhance its technology in its commercial vehicles
UD Trucks and Allison Transmission held a joint event in Dubai Autodrome recently to showcase the Croner range and its advanced automatic transmission. At the event, the company's partners and other participants had the opportunity to experience the capabilities of UD Trucks' Croner line-up revved up with Allison Transmission. The vehicles all proved to be a smooth drive with drivers easily mistaking the driving experience to that of a powerful, automatic light vehicle.
The five and eight-litre engines of the Croner come with provide extraordinary power and acceleration, while the advanced technology of the fully automatic transmission ensures smooth gear changes and optimal fuel efficiency, delivering a superior driving experience.
The Croner coupled with Allison Transmission provides customers with increased productivity, reduced maintenance costs, heightened vehicle uptime, all leading to a substantial reduction in overall operating costs. Furthermore, the Croner range between 11-19T is available with both manual and Allison gearboxes, offering customers a wider range of options to choose from.
Waste management companies especially have more flexibility in choosing the best vehicle suited to their needs. The updated Croner LKE series, (Euro 5 standard), provides a range of power options with 210 HP and 825 Nm torque, or 240 HP and 900 Nm torque. The PKE series offers 250 HP and 950 Nm torque, also meeting Euro 5 standards.