The Zetros is the culmination of over 120 years of expertise and know-how. This one-of-a-kind off-road truck, made in Wörth at the world's biggest truck assembly factory, exemplifies the high quality associated with the Made in Germany mark.
Juffali Commercial Vehicles, one of the Kingdom of Saudi Arabia's premier automotive distributors, has unveiled the new and upgraded Mercedes-Benz Zetros, which is intended to handle tough circumstances on both the road and off-road terrain.
The Mercedes-Benz Zetros can travel beyond the boundaries of a standard truck and can endure obstacles such as potholes, muddy ruts, mountains, hills, sand, dust, cold, and heat. It offers drivers and crew members comfort and safety, making it the ideal truck for both off-road and on-road operations.
"With our unwavering commitment to quality, we proudly stand behind our slogan of delivering trustworthy trucks with added power," says Schulze. "While tried and tested features remain, we have also made significant improvements to ensure that the Zetros always reaches its destination without compromise. Experience the unmatched power of the Zetros today."
This cab-behind-engine truck not only excels in off-road capabilities and operating strength in extreme conditions but is now also a dependable option for long-distance haulage. Whether it be rough and dusty terrain or poorly maintained asphalt roads, this truck is up for the challenge. Its resilience knows no limits. "Our vehicles are designed, constructed, and tested with daily usage in mind. We only expect trucks that can deliver practical performance to meet our high standards, as well as yours," adds Schulze.
The Zetros is available in twelve various configurations, all of which are available directly from the manufacturer. It may be configured as a dumper, platform vehicle, or semitrailer truck with two or three wheels and all-wheel drive, giving it a great choice for any work in Saudi Arabia.
"We are a leading provider in the Kingdom of Saudi Arabia and have a deep understanding of the intricate and rigorous demands," says Schulze. "Our services include the transportation of pipes, chemicals, drilling equipment, personnel, fuel, water, and other materials to and from exploration and drilling sites – even in the most challenging and remote terrains."
Engine Concept
The Zetros is available as a 4×2/4×4 vehicle with a 6-cylinder in-line engine in 18–22 tons weight variants. The 6×4/6×6 variants of the Zetros with a 6-cylinder in-line engine are available as 25–40-ton weight variants.
As a 3-axle semitrailer tractor powered by the OM 460 engine, with a permissible gross combination weight of up to 120t, the Zetros offers enough reserves to reliably transport the heaviest loads on multi-axle trailers far beyond paved roads.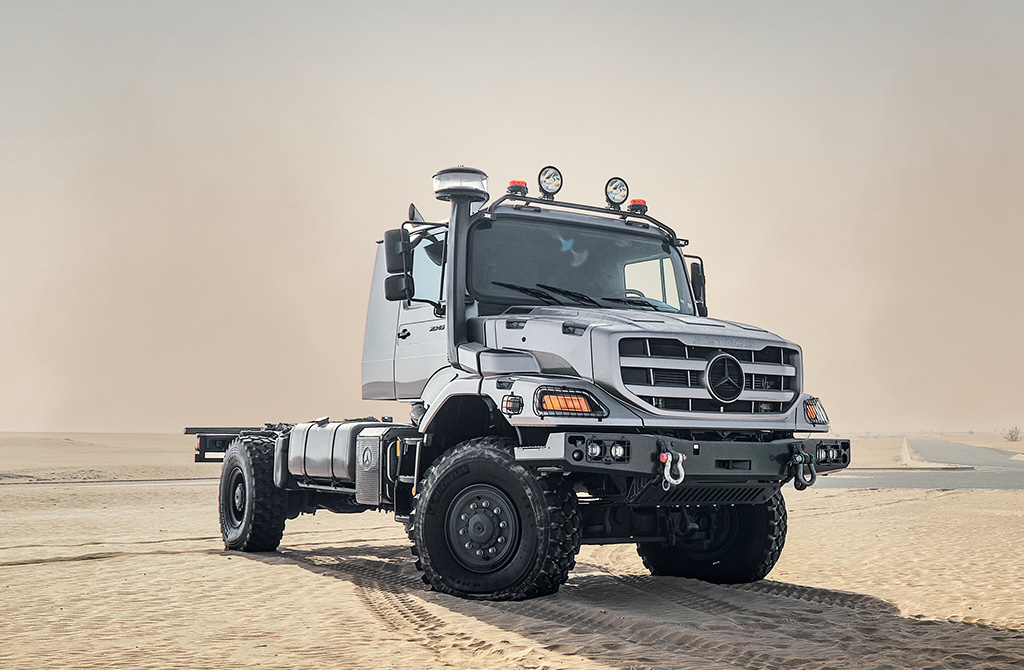 Axle Configurations
The Zetros comes with standard 14.00 R 20 tires, which provide extra traction and ground clearance due to their single design. However, there are other options available, including 395/85 R 20 tires, as well as twin tires in varying weights and sizes.
The spare tire is safely stored underneath the vehicle's frame on the left side and doesn't affect the break-over angle or ground clearance. It's an exact match to the mounted tires and can be easily removed and replaced using the spare wheel jack.
Reinforced frame
The Zetros is designed for optimal off-road conditions. It features a sturdy, long-lasting ladder-type frame with open C-section longitudinal members and bolted C-section cross members, based on the straight frame of the Actros. The frame is reinforced for maximum durability and is torsionally flexible with 2 x 500 mm axle articulations along the diagonal. The front end of the frame is designed for attaching front-mounted implements and for raising or towing the vehicle. This frame concept allows for high flexibility when it comes to choosing bodies for the vehicle.
As a standard feature, the Zetros comes with dependable, low-maintenance drum brakes. Its anti-lock braking system (ABS) can be activated to lessen the braking distance, even on uneven or off-road surfaces. The steering is effortless and user-friendly, with a hydraulic 1-circuit power steering of type ZF 8098 that operates at a high pressure of up to 150 bar. This ensures comfortable and non-fatiguing steering, with automatic bleeding of the hydraulic system and an adjustable steering column.
The truck is capable of maneuvering in deep water. It has elevated ventilation and air intake above the cab, as well as headlamps that can ford through water. The standard fording depth for the Zetros is 800mm, but with the appropriate modifications (special equipment), it can even go up to 1,190mm.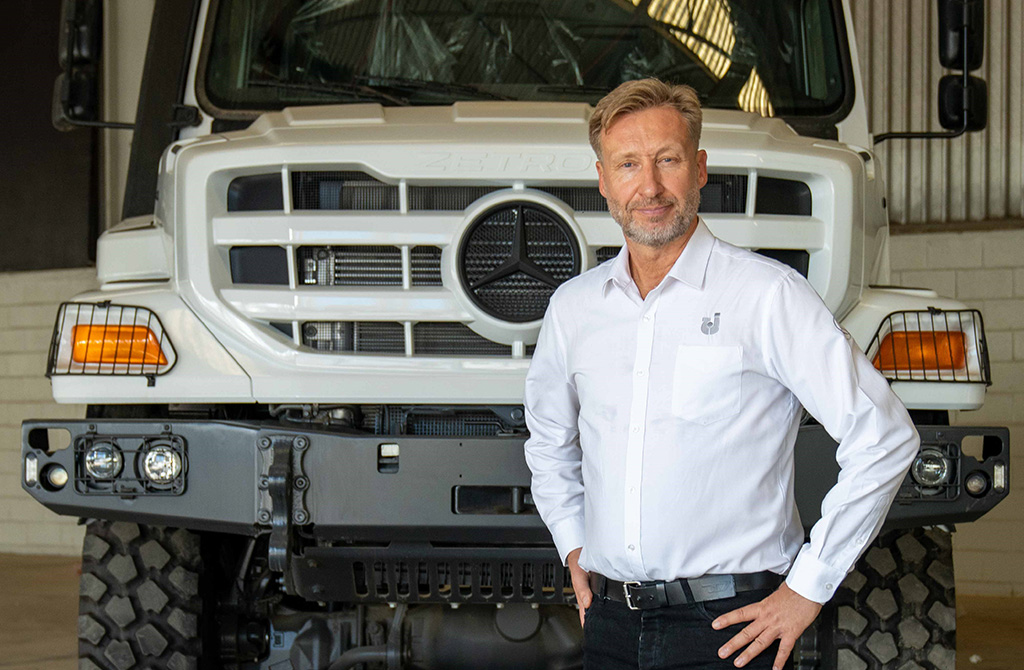 Comfort
Due to their unique design placing the cab behind the front axle, cab-behind-engine vehicles offer several advantages for drivers, especially on rough and bumpy roads. The front bonnet provides smooth and comfortable handling. With no engine tunnel, there is more space in the cabin for movement and safe entry and exit on the side of the vehicle away from traffic. The spacious cab accommodates three modern, comfortable seats and storage for equipment or a sleeping area on the back wall. As a result, drivers can handle the Zetros with ease and less fatigue, even on long trips.
Juffali Commercial Vehicles is presently providing the Mercedes-Benz Zetros with a two-year or 250,000-kilometer warranty, whichever comes first.