Caterpillar's new hydraulic excavators, the Cat 320 GX and the 323 GX come in a package of low initial and overall maintenance cost, increased fuel efficiency coupled with Caterpillar's customary legacy of reliability and optimal performance.
Caterpillar introduced their latest hydraulic excavators at an online event for the Middle East media. What is striking about the new hydraulic excavators is the fact that they are priced much lower than their predecessors. Perhaps the pandemic had something to do with this? "No, the pandemic did not influence the introduction of the GX excavators or their price," says Juan Vila Prieto, Product Application Specialist, Caterpillar. "As part of our continuous improvement focus, we gather feedback from customers around the world and build that feedback into our development process. What some customers were telling us was that for some applications where they get paid by the hour, highly productive machines are not required. What is key to those customers is a low acquisition cost as well as lower fuel and maintenance costs."
Having said that, the lower acquisition cost of the GX models does not compromise its durability. This has been achieved mostly through the machines' configuration: The GX models have one standard offering with a limited number of options, and they are easy to operate and maintain. In addition, there is no technology available such as the ease-of-use package (ex: Cat Payload, Cat Grade Assist). These machines are simple, reliable, and economical excavators which are supported by the Cat dealer network.
Fuel savings
The 15% reduction in fuel consumption is a comparison with the preceding D2 Series excavators. A key enabler for this reduction is the proven electro-hydraulic system also used in the Next Generation excavator platform introduced in 2018. "This has proven very successful in terms of fuel efficiency," adds Prieto. Additionally, The Cat C4.4 engine has two power modes: Smart and Power. The different options ensure that the excavator is always working in the most optimal settings for any job. The system provides maximum power when needed by sensing the load factor and reduces power when it is not required. Basically, the operator can adjust the engine RPM depending on the working conditions. The new Smart mode further optimizes performance while reducing fuel consumption.
The 320 GX and the 323 GX models are designed for a wide range of applications where a high level of productivity is not a prime requirement. Typically, they are for applications where customers are paid by the hour and need a fast payback on their investment. "This could be an owner/operator in a wide range of tasks or for light work by municipalities. These machines are also attractive for rental and governmental tenders, for example," continues Prieto.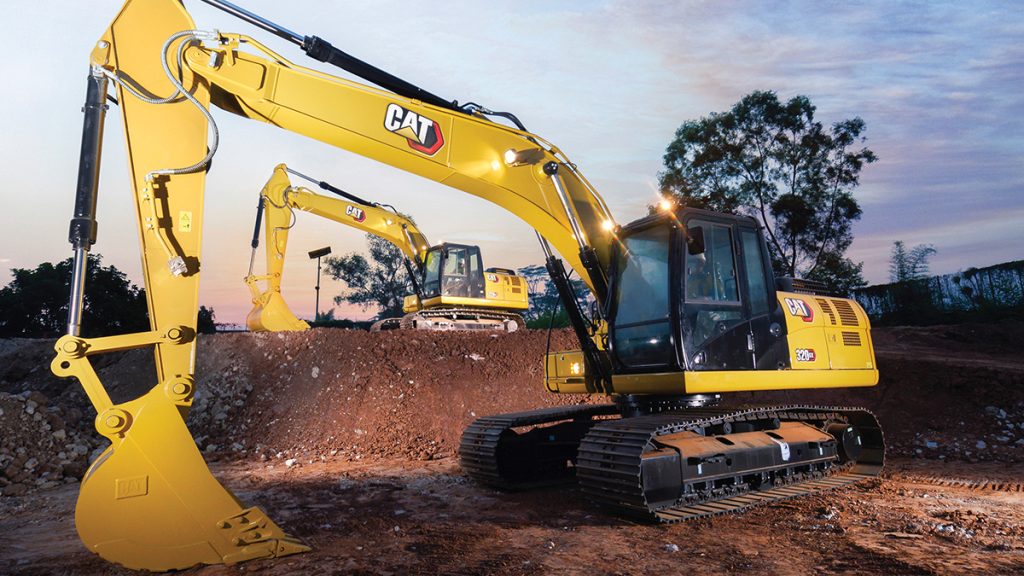 Cab design
The cab is designed to reduce operator effort. The seat adjusts to accommodate operators of different sizes while the machine controls are positioned in front to eliminate turning and twisting. Automatic climate control is standard. To reduce the noise and improve air quality, the cab is sealed and pressurized. Large glass and narrow cab pillars enhance visibility into the trench, and an optional rear-view camera further improves visibility. Convenience features include an 8" colourful touch-screen interface, programmable joystick buttons, an integrated Bluetooth radio, built-in USB and auxiliary ports for connecting and charging devices, and a 24V DC outlet for faster charging and ample storage for a cup, a cell phone, a lunchbox, and other items. A keyless pushbutton start and operator ID code help prevent machine theft.
Operator ID also saves the settings and restores them at login for a quick return to work. There's also an anti-skid plating service platform and access, LED lighting and most daily check points are at ground level.
Upgraded technical enhancements on the machines reduce long term maintenance costs by up to 20% compared to the 320D2 GC and 320D2 L. A renovated design significantly impacts maintenance intervals by extending them and provides easy access to consolidated filters. Hydraulic, air, and fuel filters feature increased capacity for longer life. "Routine maintenance checks on the machines are also easy and safe due to ground-level access to filters, drains, and scheduled oil sampling ports," says Prieto. Handrails, serrated steps, and anti-skid surfaces with recessed bolts make getting in, out, and up the excavator trouble free. The tool/storage box, fuel door, hydraulic oil fill, and fuel drain compartment are lockable for added security.
Service intervals for fuel filters extend from 500 to 1,000 hours, while the new hydraulic oil filter improves filtration performance and extends replacement intervals from 2,000 to 3,000 hours. Auto warm-up expedites hydraulic warming in cold temperatures to help improve component life.
The performance of the new 320 GX and 323 GX is enhanced by the next generation electrohydraulic system that comes with a smart mode and has low fuel consumption and low CO2 emissions. They come built in with a proven Cat C4.4 engine – the single turbo tier 3 on the 320 GX C4.4 and the double turbo tier 3 on the 323 GX C4.4. Both machines have competitive bucket and hammering capabilities.
Maintaining the machines has a lower cost as compared to earlier models. These machines also come with longer service, safety, durability, and reliability intervals. There are fewer parts and fluids to replace as there are no pilot and drain case filters. Fuel filters need replacing after 1,000 hours and the hydraulic oil needs to be changed after 6,000 hours of use. Also, most filters are common with other Next Generation excavator models.